"No matter how old you are, you still have a princess, or a kid who likes to have fun, living in your heart," Lucky Zhu said. As the owner of Bubble N N Bubble on 2nd Street in Old Town Warrenton, she reflects on the fun nature of the bubble tea she offers. The chilled fruit-flavored milk tea is popular among children (and adults) who are drawn to the colorful jelly-like spheres served in the bottom of the drink, which are the inspiration for the restaurant's fun name. 
Not just a tea shop, Bubble N N Bubble sells a wide array of food including sweet and savory crepes, noodles, dumplings, and other Asian cuisine. Ingredients are always fresh and homemade. Fill your lunch crepe with chicken, beef, or vegetables. After lunch, choose a dessert crepe with either Nutella, strawberry, or mango. Bubble N N Bubble's menu also includes the milk teas and slushies. Customer Jamie Brumbaugh says, "The ramen and dumplings were so good! Probably some of the best dumplings I've had. Super fruit tea was delicious as well." The super fruit tea Brumbaugh enjoyed, one of Bubble N N Bubble's most popular items, includes tea, passion fruit, raspberry, and lime. Another customer, Michelle Clark, says, "I particularly liked the strawberry slushie because it was fresh and refreshing and it didn't have all the added junk that a lot of other places have. It was just good old-fashioned strawberries and ice."   
Bubble N N Bubble's menu is concise and lends itself to quick, reliable service. Clark also says, "It's a very cute, clean, and comfortable small business. Everything was made fresh and quickly." The shop is small but cozy, with a couple of tables inside and outside on the porch.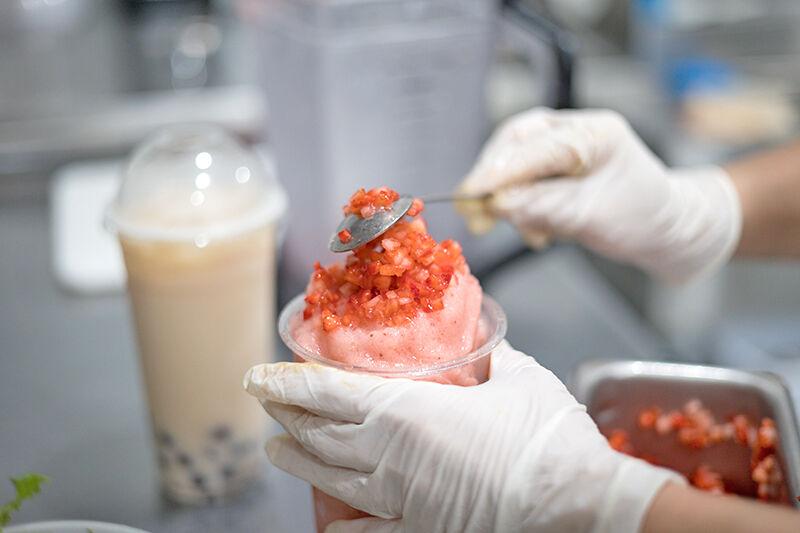 The concept of Bubble N N Bubble came from Lucky's now-adult son who has a passion for crepes and bubble tea. Opening the business was Lucky's husband, Tony Lee's idea. A chef for 30 years, the majority of Tony's experience is in Asian cuisine. He makes fresh dumplings and noodles in a flash, getting food to customers efficiently. The recipes he uses originate mostly from China, while some are family recipes.  
While Tony does the cooking, Lucky runs the rest of the business, takes orders, and oversees the tea. Her bubble tea recipes were given to her by her sister, an owner of a popular restaurant in China, and include jasmine green tea and oolong tea flavored with homemade strawberry or mango jams. All the ingredients are carefully researched. Lucky put a lot of effort into selecting the boba, which are the jelly balls, actually made of tapioca, in the bottom of bubble tea. After trying many options, she decided on one with the right texture. She says, "I have tried many other ones and the bubbles are hard. My bubbles are soft and easy to digest. I also tasted many teas before making a final selection on what to serve." 
The couple currently live in Fairfax. Although this means they have to commute every day to the shop in Warrenton, Lucky thinks the drive is worth it to be in our quaint town. She and her husband discovered Warrenton one day driving back from Shenandoah and were attracted to our tight-knit community and smiling faces. She enjoys the friendly greetings she gets from her customers. Lucky feels at home in Warrenton and hopes to move here and become more a part of our community. 
Lucky and her husband are both hard workers. Although starting their business has been demanding, Lucky and her husband are well suited to it given the strong work ethic they learned growing up in China. "Most Chinese people work seven days," Lucky says. Currently, Bubble N N Bubble is open every day, meaning she and her husband work lots of hours. Lucky and Tony work sixteen hour shifts and sometimes more. She says, "Working too hard is sometimes not good. But when you first start out, sometimes you have to." But, she says, "We just have fun every day with teas and food. Just enjoy life."
Bubble N N Bubble
20 S 2nd Street, Warrenton
Phone: (540) 428-8788
Website: bnnb001.com
Dine-in | Take-out | DoorDash