The Leonard family continues its longstanding year-round agritainment business on the farm that has been home for four generations
If you're looking to get into the Christmas spirit, look no further. Maple Tree Farm in Warrenton offers a unique, outdoor experience that is perfect for anyone looking to kick off the holiday season on the right foot. 
Maple Tree Farm, owned and operated by Patty Leonard and her family, celebrates its third holiday season this year. The season will feature their famous walk-through light show as well as fire pits, children's crafts, sweet treats, hot drinks, and more. "The first year, we were still trying to get the word out," Leonard said. "With COVID, it worked out that we did a Christmas activity that we could do outdoors so people could still social distance. Many people didn't feel comfortable doing a traditional Christmas, but they were able to come here to sit around the campfire. We felt like we had an opportunity to bring families together."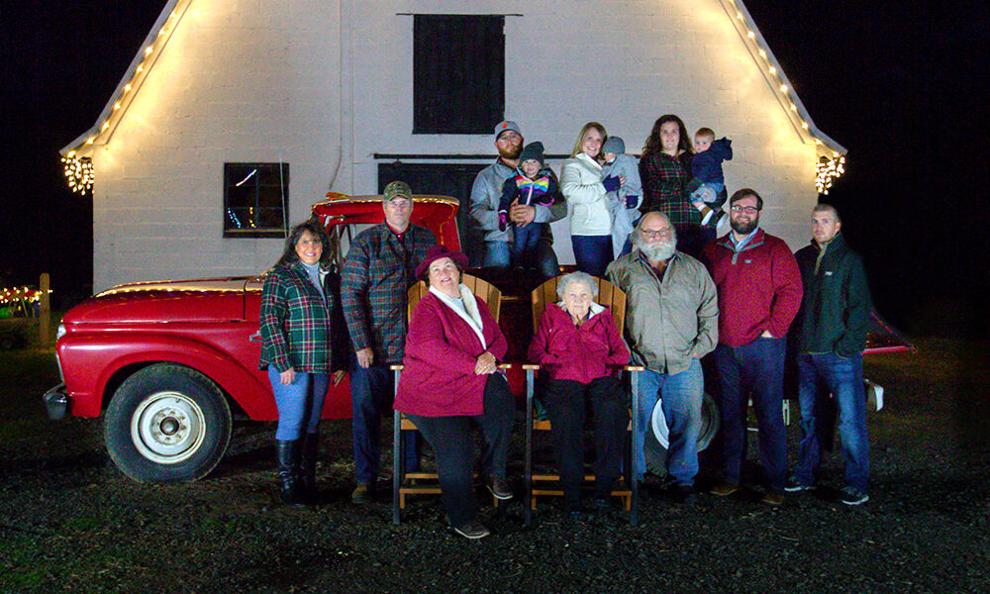 You may recognize the Leonard family name from their famous Haunted Hollow that they have been hosting since 2008 or from their original "agritainment" attraction, Cows 'n Corn. "We started 21 years ago doing dairy farm tours and the corn maze at Cows 'n Corn in Midland," Patty said. "Fast forward to 13 years ago, our Haunted Hollow got too big for the Midland location, so we moved to Maple Tree Farm."
Maple Tree Farm has been in the family since Patty's family purchased it in 1961. "They were dairy farmers in Fairfax County," Patty said, "When Dulles airport was being built, they were on Route 50 and they decided they needed to move to the country so this is the location they selected. At that point, the farm was over 220 acres. My whole family – my great grandfather, my grandparents, my parents, and my brother and I all lived on the farm together. I had a wonderful childhood, it was so amazing to be living in a multigenerational house."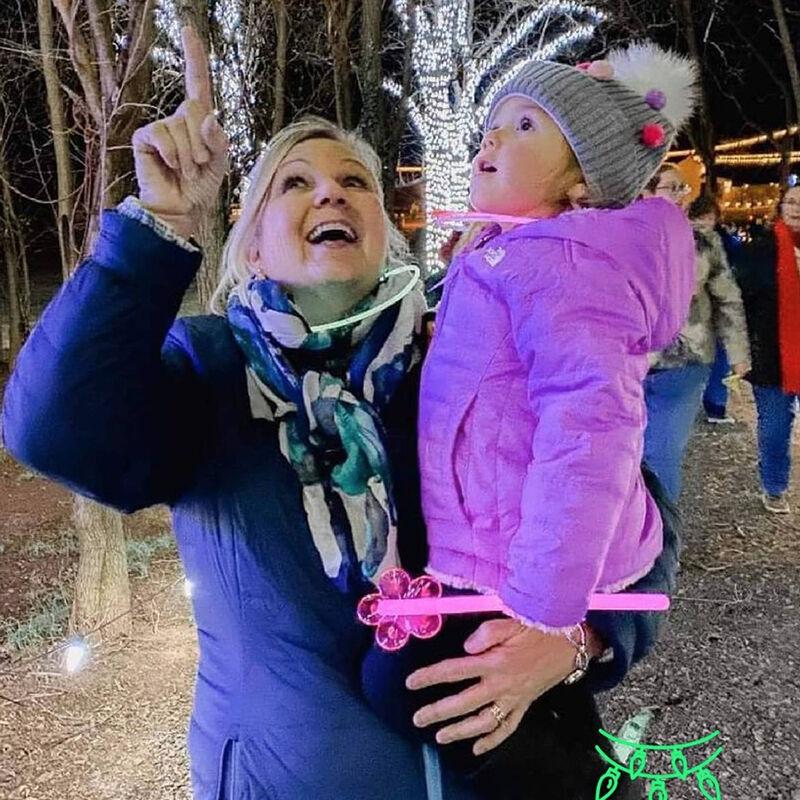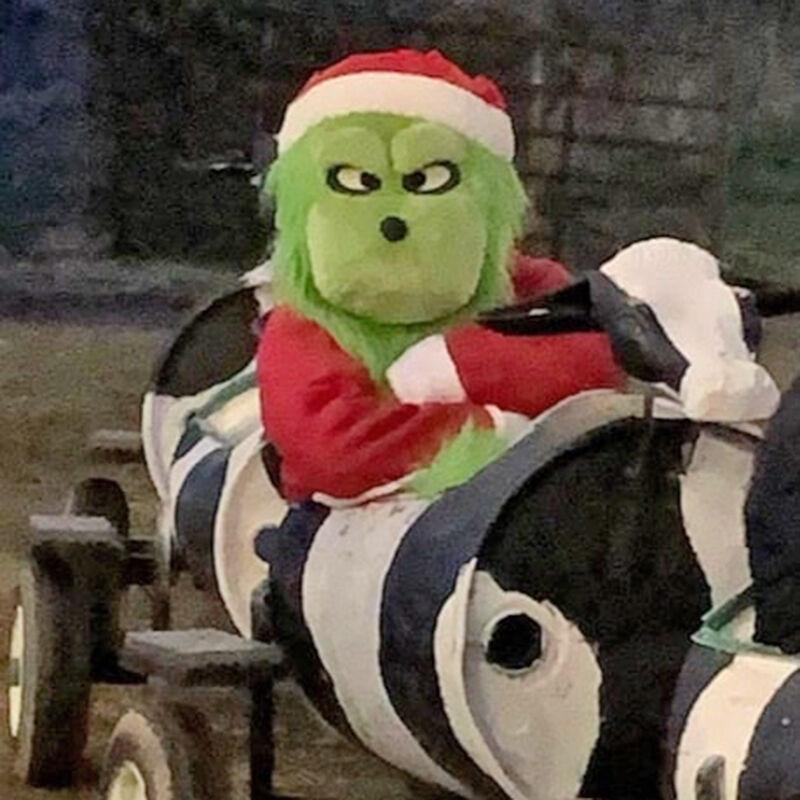 When Patty married her husband, also a dairy farmer, they purchased the farm in Midland where they hosted Haunted Hollow. "When COVID shut down everything we were doing at the Midland location, we got bold and decided to merge everything together. Christmas was my husband's idea. He knew there was another season and another group of people that could enjoy the farms in a separate way from the Haunted Hollow."
After coming up with this idea, the Leonard family set out to do their research. They traveled all over – New Jersey, Pennsylvania, Tennessee – to visit farms that were hosting Christmas festivities on-location. They visited farms that had drive-through activities, walk-through activities, and more. "We saw how the experiences had brought our family together when we were traveling and doing our research."
Patty and her husband have kept the business in the family. Their daughters, Sarah, Elizabeth, and Katy, all graduates of Liberty High School, have roles in the business. 
"Two of the daughters live on the farm and they both participate," Patty said, "Sarah does the agritainment full time with me for our school tours and the haunts. Elizabeth joins us and helps out on weekends. She's a reading specialist in Prince William County. Katy lives in North Carolina is in hospitality and hotel management. She helps out as a consultant with the wording of our website and lets us bounce ideas off of her. She's the tiebreaker."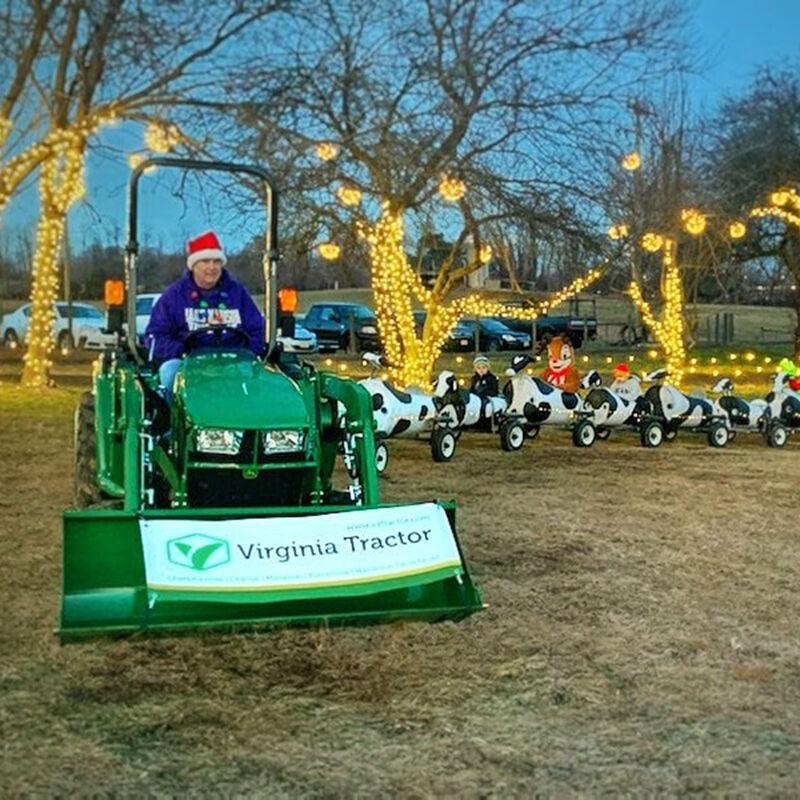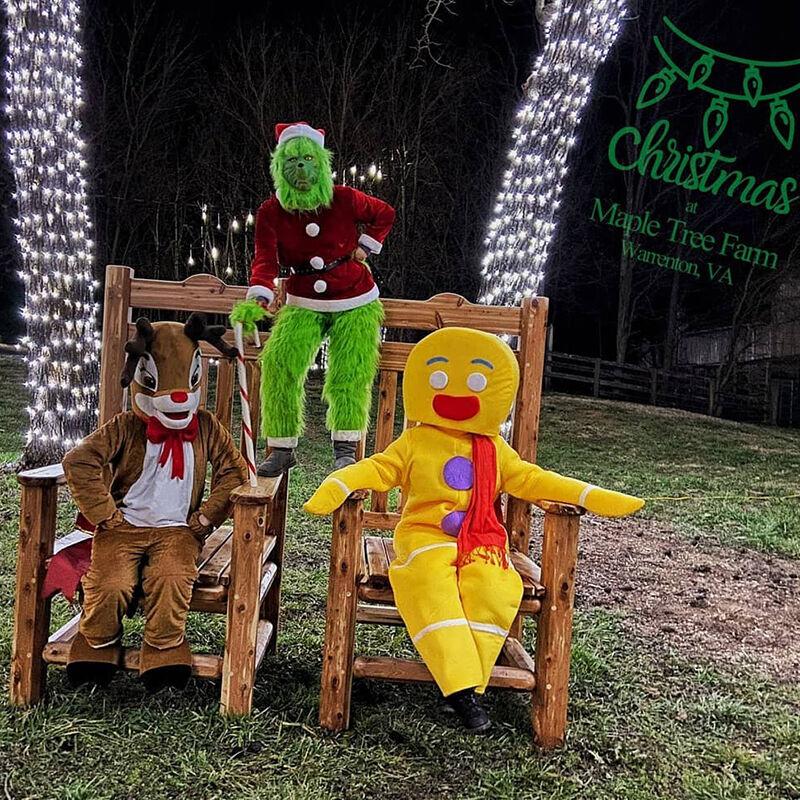 The Christmas activities were loosely inspired by their experiences as their girls got older. "We switched from doing gifts and presents to doing activities together," Patty said. "We had done drive-through Christmas lights and we found that we had to take multiple cars and didn't get to enjoy it together as a whole family. We felt that having a walk-through would allow families to experience things together. 
The holiday experience at Maple Tree Farm includes a walkthrough almost a half-mile long with lights and music, a light show across the pond that is synchronized to music, a 24-foot Christmas tree, characters dressed up for guests to get photos taken with, and more. "We're going to bring back the kids' crafts this year, Patty said. "We're also bringing back campfire sites so people can stay and enjoy the lights and the music. We hope this will be another year that people can come and enjoy Christmas outside and hopefully make some special memories."
When Maple Tree Farm isn't all dressed up for the holidays, the family focuses their time on the beef cattle farm in Midland, where they have over 150 cattle. You can expect the agritainment at Maple Tree Farm all year-round, though, with their most popular attraction being their annual Haunted Hollow that includes a 20-minute walking trail through an abandoned farm, full of haunted barns, scenes & scares. Other entertainment includes Easter activities, Fall fun, and educational farm tours for schools. They'll also help you plan an event for just about any occasion, including birthday parties, family reunions, company picnics, ladies' night out, or outdoor movie nights for large groups. The possibilities of outdoor activities are endless.
FB: @MapleTreeFarmVA