Kristy and Jerry Hull's Lasting Contributions to Fauquier Education
By Natalie Ortiz
Teachers are special, responding to a call to prepare the youth of today for the unpredictable world of tomorrow. While every educator plays an important role in the development of students, every so often truly unique teachers who leave lasting impacts on children come to light. Such is the case with Jerry Hull and his wife, Kristy.
While sitting on the sidewalk in Historic Downtown Warrenton on a warm summer day chatting with Jerry, I instantly knew that I was with a local celebrity. Every few minutes a parent or student would wave or stop to chat with Mr. Hull. Each one of these folks had updates on the lives of their kids or their own, words of thanks, and inquiries about the Hull family. When Kristy is also present, the celebrity status is doubled, with students coming up for hugs, and friends of their sons' waving.
Originally from Pittsburgh but now 20-year Fauquier residents, Jerry and Kristy are both are teachers at Brumfield Elementary School — Jerry as a fifth grade teacher, and Kristy as an ESL teacher. The two have spent the entirety of their professional careers bestowing Fauquier County's youth with the gift that keeps on giving — the confidence of being well rounded students and life-long learners.
Kristy is a National Board Certified Teacher and recently received her master's degree in curriculum and instructional design. She sees instructional coaching in her future and is looking forward to using her experience and knowledge of elementary classrooms and to make a difference within the larger community.
As a musician, Jerry has been an educational songwriter for a number of years. He maintains a YouTube page called "Mr. Hull" that features his content-specific songs which include titles such as "Ocean Floor Rap", "The Parallelogram Club", and "The Rock Cycle Rock." He is currently involved in a joint project with the Fauquier FRESH (Fauquier Reaches for Excellence in School Health) department and Allegro Community School of the Arts to bring songs about fruits and vegetables to the school cafeterias on a monthly basis.
Kristy and Jerry are exceptional not only as educators, but as parents and spouses as well. They were kind enough to talk with me about their unique position in the lives of Fauquier children, both as parents and teachers.
Can you tell me about your family?
We have three boys, each of whom is in the Fauquier County School system. Gabriel is 13 and attends the multiple disabilities class at Auburn Middle School. He enjoys music in general and guitar in particular. Liam is 8 and is in third grade at Brumfield. He is taking drum lessons at Allegro School of Music and showing a real talent for it. Julian is 5 and begins his school journey as a kindergartener this year. He is our family comedian. He loves to entertain and amuse others.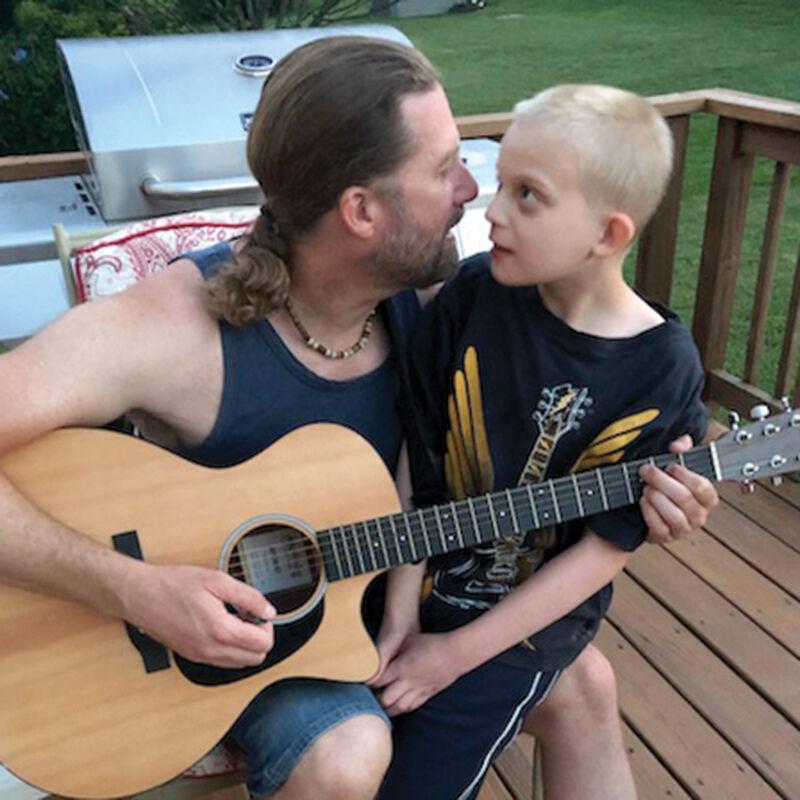 With the ages of our boys, anything that gets us outside and lets them run and be active is a good choice for our family. We frequent our county's various parks and playgrounds, as well as the greenway trail, and enjoy a walk through Old Town and a stop at Deja Brew when we can.
What are the challenges of raising a special needs child?
Families of children with special needs each have their own unique challenges to face, and life with Gabriel is no different. When we first realized the extent of his disabilities it was hard to hear, but Kristy and I decided that we would take each situation one step at a time. We have also surrounded ourselves with the right people to help enrich Gabriel's life and allowed him to participate in as many things as possible. This has worked well for the first 13 years of his life, and we feel ready to take on the challenges of the future. It is important for us to understand when to encourage the younger boys to include Gabe in their play, but also to realize that they need to live their own lives.
You've both been teachers for over 20 years. What motivates each of you to stay in the field of education?
For both of us it is the difference we can make in students' lives. With too much focus on testing in recent years, it is the relationships we foster that make an actual difference in their lives. Students remember those teachers who were there for them as they grew. Both of us have been invited to attend awards ceremonies, weddings, and unfortunately funerals of former students over the years.
What's something that you wish all parents knew about being a teacher?
We genuinely care about their children and spend a great deal of time thinking about their well-being, both as a student and as a member of society. When a child joins our class they will always be our student going forward.
From the unique perspective of being both parents and teachers, what's the biggest obstacle most students face today?
Technology has both immense benefits for students and presents a new set of challenges. Having the whole world at their fingertips has in some ways caused their own world to shrink. We are seeing less face to face communication between children and with adults. In a world where social media "influencer" has become a job, some of the best actual influencers are teachers.
What's one tool you'd like to encourage other teachers to use in the classroom more often?
Music is a powerful tool for learning. Being a children's songwriter, I have seen the benefits of learning any subject with music. Years after being in my class students come back to tell me that one of the songs I wrote helped them on a test. Kristy promotes more movement in the classroom. More physical movement helps kids maintain focus and attention.
What is it like being both a parent and a teacher in the county in which you live and work?
Working in the county where we live has allowed us to get to know many community members and families, and we enjoy a positive reputation and relationship with these folks built up over many years. Parents and students know who we are and what we are about. Being parents in the school system has made us better teachers and vice-versa. We can see both perspectives, especially when it comes to IEP meetings and conferences.
You both love teaching in Fauquier County. What made you decide to dedicate the past 20 years to the education system here?
It starts from the top, with forward thinking senior staff members who seem determined to prepare our students for tomorrow's challenges. We have worked with many talented and dedicated teachers, administrators, and support staff, who work to ensure that our school is on the cutting edge with new ideas to enrich students' lives and education. The community atmosphere of Warrenton and the surrounding towns has a welcoming feel that is lacking in larger districts. The superintendent knows us by name, and the mayor, school board, and town and county government officials welcome interaction and feedback from teachers and other citizens. Overall, the town and county, along with the many small businesses, try to create a community for both our citizens and visitors to enjoy.