Fauquier County Master Leathersmith 
Photos by Kara Thorpe
Stepping into Skeeter's shop was like stepping back in time for me. Thirty years ago, when I was riding full time, going to Skeeter's was a regular occurrence. Not only is he the closest tack repair shop around, he is the best. This year marks his 50th year in business.
Skeeter is a master leather smith. If it's leather, he can make it or repair it, from saddles and bridles to chaps to gun or knife holsters. He's had his shop in Fauquier County since 1978, and has amassed a solid and loyal customer base from near and far. As he says, he is "busy, busy, busy."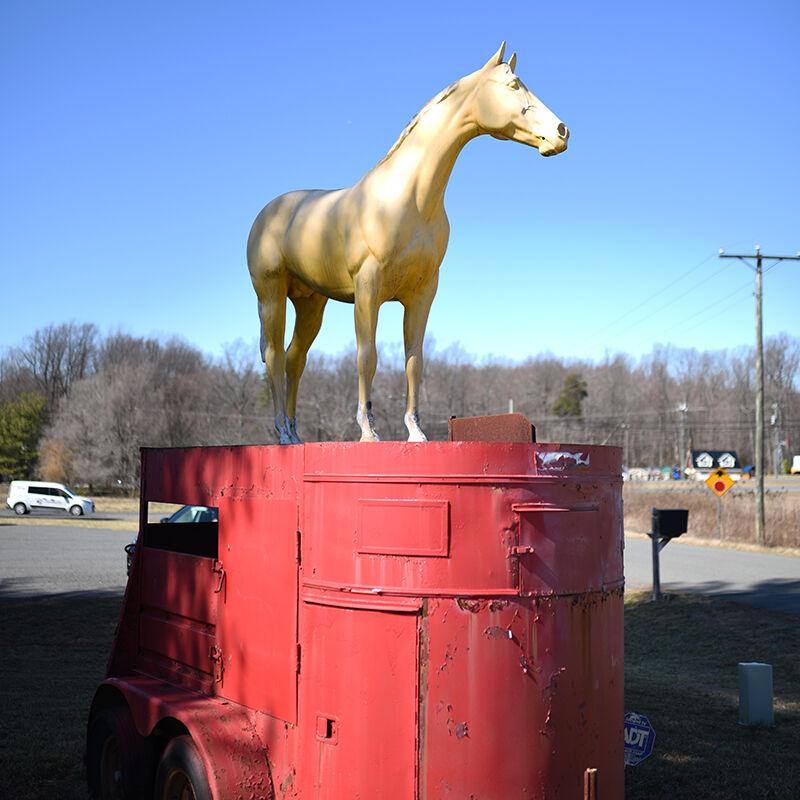 Skeeter is the epitome of the self-made man, learning his trade through experience from an early age and perfecting it over the years. It started not with tack, but with horses themselves.   
"I left home when I was 13 or 14, and I've been on my own ever since. I got into riding when I was 15. A local stable in Herndon needed some barn help, so I worked there cleaning stalls and doing farm chores. I found out that I liked horses, and they taught me a lot there about them. I got my riding experience there by riding and riding and riding some more, all sorts of horses, all sorts of experiences. Herndon was different back then, it was country, real country."
That's where he got the nickname "Skeeter." He explained, "I was working at a farm that had chickens, and I had to catch 10 chickens and put them in crates. So I'd catch one after the other, and put them in the crates, and then I told Mr. Holland, 'I got them all done.' And he said 'Damn, boy, you faster than a mosquito.' So I've been called Skeeter ever since."
"A guy by the name of Harrison saw me ride, and offered me a job on the spot. They had a stable out on Route 7 in Tysons Corner. I'd help them break horses. I broke all kinds of horses, basically any horse — English or Western, Thoroughbreds, racehorses, driving horses. You name it, I broke them."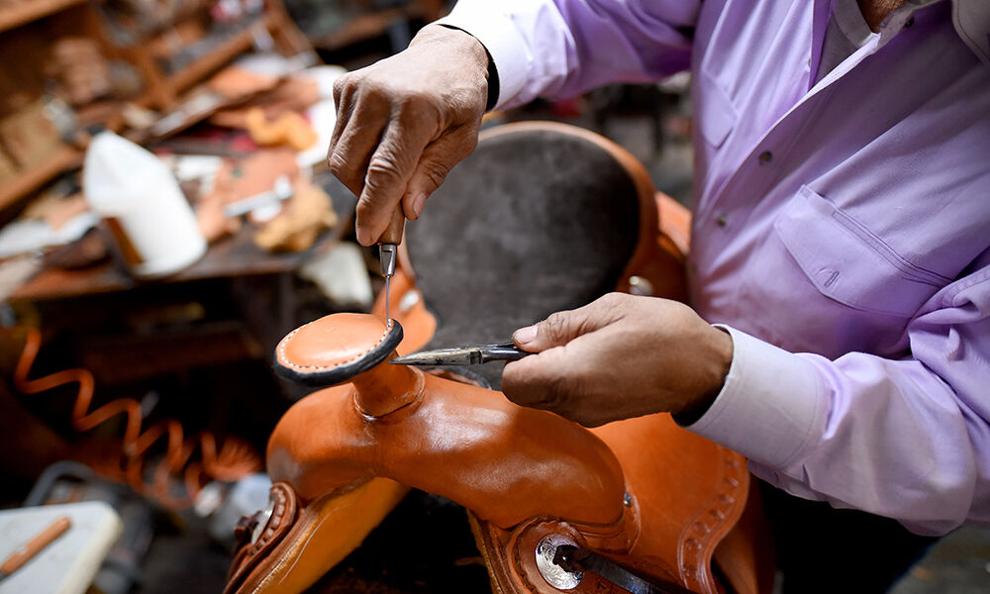 Skeeter became known as an expert in Quarter Horses, and served as a horse show judge for the American Quarter Horse Association for 25 years.
Through the years of working with horses, Skeeter was also building his experience and skill with leather and tack repair. 
"Mr. Harrison also had a tack store and did repairs, so in the winter when we couldn't ride with the snow and ice, I'd go down there and work for him, and that's where I learned. To make saddles you have to first learn how to repair them. By taking them apart and fixing them, you learn how the saddle's put together. Once you know that, you can start making the saddles from scratch. Now, I've got kids that come in here and they want to learn how to make things from leather, but they don't want to learn the repair work, start from the bottom. I've got no patience with that."
Fifty years ago, Skeeter decided to go out on his own — as he said, "After working for others, it was time to look out for Skeeter." He moved his custom tack repair business to Fauquier County in 1978, starting out operating out of the back of Mayhugh's Market, and moving to his current location in 1991.
Skeeter is known as the place to go for leather repair, but at heart he is a master custom saddle maker, with customers from all parts of the globe. He makes hand-stitched custom western saddles and endurance saddles. He's made 560 of them since 2000; this year he's made four already, with another five on order, with about a two-month turnaround time.
Not a horse person? Skeeter works on leather of any kind, from belts to broken handles on purses or computer bags to boot and shoe stretching. 
"I had a customer who did competitive trail riding all over the world. I made her a custom saddle that she loved. She went once to Dubai, and whoever was Prime Minister then, he really liked that saddle, so he ordered three from me which I made and shipped over there."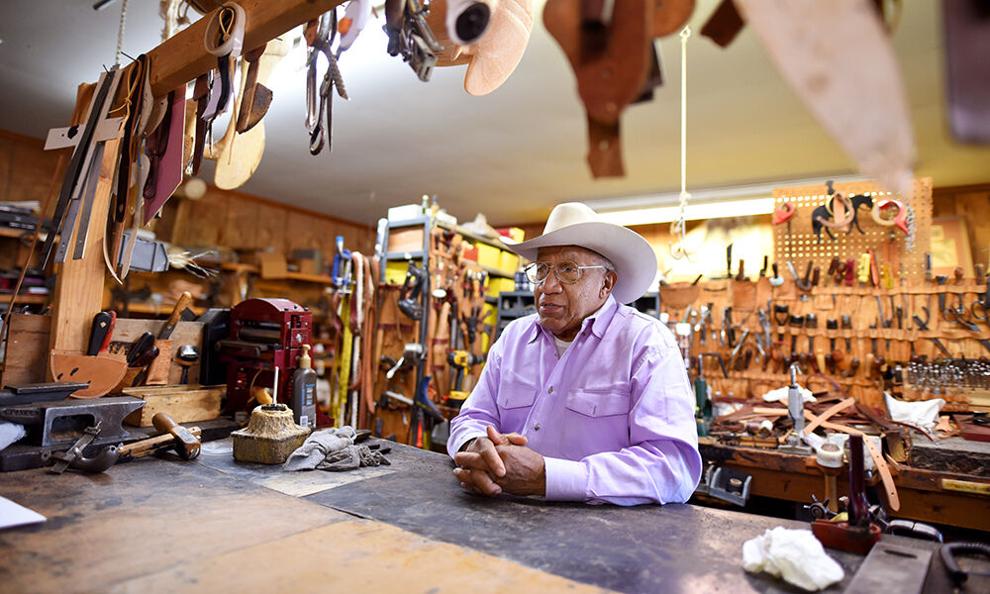 Skeeter's skill in leather repair has also brought historical restorations to his door. He's repaired Civil War-era saddles thought beyond salvage, and made meticulous replicas for historical organizations. The Smithsonian asked him to create a replica of the Hope Saddle, which was made by Native Americans hundreds of years ago. He also created a replica of the saddles used by the Pony Express for the Library of Congress for reenactments, and repaired a set of leather-seated chairs from Monticello. 
But Skeeter's favorite part of the business is making his custom western saddles. "I'd like it if I could just sit here and make saddles all day, but that ain't where the money is. Money is in the repair work. Sometimes I come in here when the weather's bad at night, if I'm making a saddle and I don't want anybody to disturb me, I come down here when there's peace and quiet and nobody's bothering me and work on it."
Skeeter's Tack Shop
540-347-0488