Fauquier County Class of 2021
May is graduation month, and June is the issue where we celebrate our local graduates in Warrenton Lifestyle. As we all know, this school year has been probably the most difficult in the history of education. We wanted to highlight one senior from each high school and asked the principals to recommend a student. Sam Cox of Liberty High School, Kraig Kelican of Fauquier High School, and Megan Brill of Kettle Run High School had a tough time deciding, but then recommended Madison White, Samuel Rodman, and James Diehl. We asked them some questions about growing up and going to school in Fauquier County, as well as their future plans. One thing that shines out is their affection for their teachers, their community, and their love of sports. Thank you to all the teachers and staff of Fauquier County Public Schools for their efforts in maintaining normalcy over the 2020-2021 school year, and please enjoy getting to know Maddie, Sam, and JT. We applaud their hard work in excelling during this most challenging year and recognize the efforts of all FCPS students. 
---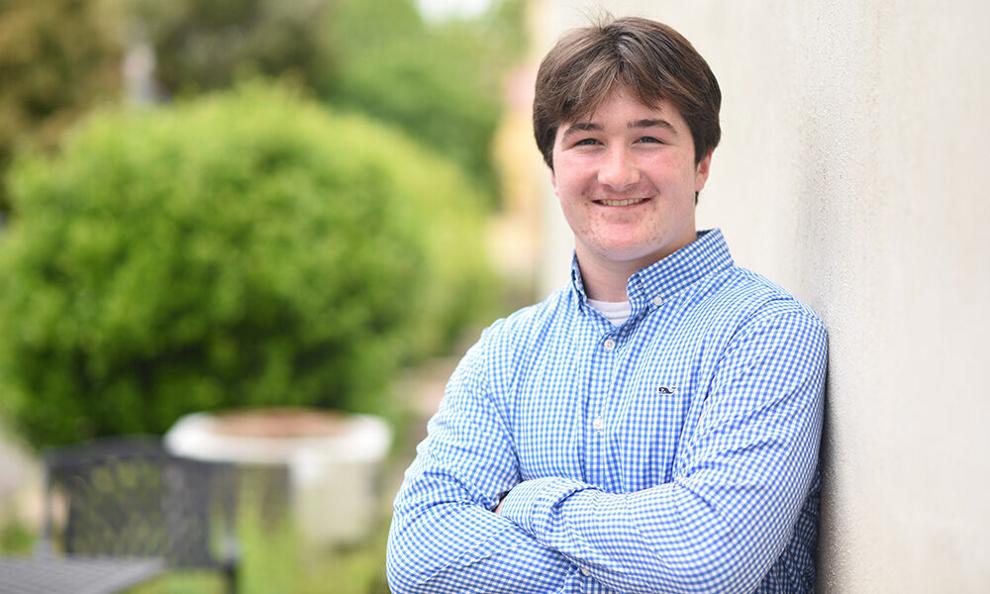 James "J.T." Diehl
Fauquier High School
Tell us a little about yourself.
I have lived my whole life in Warrenton. I have two older brothers and two older sisters who all graduated from Fauquier High School. My oldest brother Garrett, class of 2011, was the FHS starting quarterback for two years while my other brother Colin, class of 2013, was the starting quarterback for two years as well. Both went to play college football. My older sister Megan, class of 2015, was varsity Field Hockey captain and played in college. My older sister Caroline, class of 2018, was also captain of the varsity Field Hockey team. I have been playing varsity quarterback for three years. My hobbies are snowboarding, golf, and fishing. I have been involved with my school's student government as class president during my sophomore and junior years. This year, I am the student government president. I also enjoy traveling.  My mom is a flight attendant and she has taken me on trips to London, Rome, Munich, Paris, and Dublin. 
What does living/having gone to school in Fauquier County mean to you?
My family moved from Fairfax to Fauquier County to enjoy small-town living. Having a relationship with the school's faculty is very important to me. If I had attended a school in Fairfax I would have been 1 student out of 600 students in my class. Living there my teachers would have barely been able to get to know me. Here at Fauquier, I am 1 student out of 340 students. While having a significantly lower number of students I am able to meet my teachers and get to know them more.  I have been playing organized football since I was six.  I was an FYF Colt for many years and had the best coach ever, Coach Joel Gohlman. Having many different outdoor parks and lakes has made an impact on me tremendously. I enjoy being able to meet up with my friends and going fishing and kayaking. 
What was your favorite subject in High School? Favorite teachers/coaches? Why?
My favorite subject at school is government. My mom wants me to say that but I enjoy the weightlifting class. I was very involved in the recent U.S. presidential election because I turned 18 years old and was able to vote. Already being interested in government I knew I would enjoy the class. My teacher Mr. Smith is very unbiased and takes everyone's political opinions into consideration. Having access to the weightlifting class really teaches me skills that I will use throughout my life to keep in shape. 
Did you work part-time while you were in high school? Where? Did you learn anything?
For the past year and a half, I have worked at Walmart and that has given me an opportunity to save money for college. Even with the pandemic, I have found a way to stay safe and still work to the best of my abilities. I learned that calling out/not showing up for work makes everybody's workload harder. 
What are your plans now for the future?
I plan on attending Hampden-Sydney College and playing football there. I am currently undecided but would consider majoring in political science. My dad is a retired FBI agent. He is very successful and has started his own handyman business. I can see myself following in his footsteps and working for the government.
---
Madison White
Kettle Run High School
Tell us a little about yourself.
I have lived in Warrenton for six years with my mom, dad, sister, and two dogs. In school, I was Student Council Class Secretary for three years and I am currently Student Council Senior Class President. While this year has been hard to organize events with COVID-19, we have managed to put on a senior sunrise and "homecoming" spirit week. I have played both lacrosse and field hockey since freshman year and serving as captain in both sports as a junior and senior. I enjoy being a captain because it allows me to support the girls and act like an older sister to them. I am also a member of Kettle Run's Morgan's Message, which is a club that works to eliminate the stigma surrounding mental health within the student-athlete community. I am also a member of the National Honors Society and National Latin Honors Society.
What does living/having gone to school in Fauquier County mean to you?
Moving from Prince William County to Fauquier County in 6th grade was a huge change for me. Living in Fauquier County meant smaller classes. Not only does it mean I can establish better relationships with my teachers, but also my administrators and superintendent through participating in the Student Advisory club. A few of my fellow classmates and I meet monthly with our superintendent, Dr. Jeck, to suggest improvements within our school. It makes me feel like I have a voice in our county's education system. 
While I enjoy going to school in Fauquier county, I also love living here. I love that I live halfway between the town of Warrenton and Gainesville, so I have variety in the restaurants or stores I go to. I also feel very safe living in Fauquier County. I love that it has a rural feel, but it's a short drive into the city. 
What was your favorite subject in High School? Favorite teachers/coaches? Why?
My favorite subject in high school was definitely English. I have always found myself drawn to writing. My favorite teacher was my chemistry teacher, Ms. Wendlberger, aka Wendl. I loved Wendl because she genuinely cared that her students learned the material and about their well-being. She pushed us to go above and beyond in the classroom. Her class was one of my hardest at Kettle Run, but also one of my favorites. 
My favorite coach was my field hockey coach, Coach Todd. The summer before Junior year, I was really struggling with my anxiety. I was ready to quit field hockey before it even started because I was so worried about my workload and commitments. Coach Todd made me feel like it was okay to feel the way I was feeling and told me I could accomplish anything I wished. After Coach Todd's motivation, I had my best season of field hockey- I received the titles of First Team All-Northwestern District and Second Team All-Region and was happier than I ever thought possible. I have been very lucky to be surrounded by Kettle Run's amazing staff.
Did you work part-time while you were in high school? Where? What was that like-did you learn anything?
I did not have a part-time job in high school because of my commitment to sports, school, and clubs. In the summers, I am a nanny for three girls in my neighborhood. We have a lot of fun together and I have learned how to be more creative. I want the girls to remember their summer as a summer of memories, rather than the summer they got to play on their tablets.
What are your plans now for the future? If college or trade school, what would you like to study? Career aspirations?
The college decision process has been really crazy for me. I toured at least 15 schools and applied to over 20. I have finally made the decision to attend the University of Tampa's Honors College to study marketing. I am not set on a particular career path, but I would love to pursue a career as a Marketing Manager.
---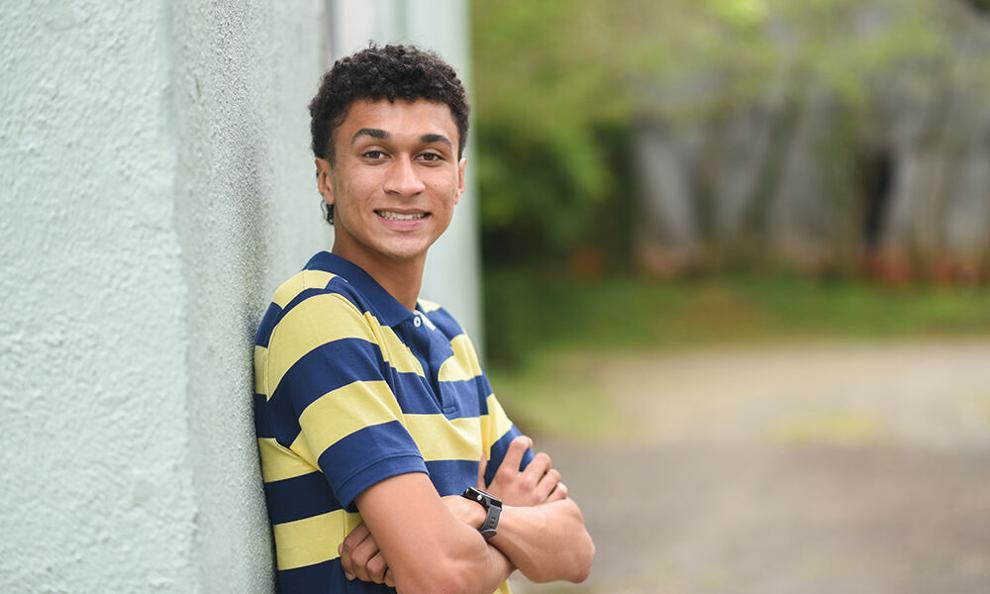 Samuel Rodman 
Liberty High School
Tell us a little about yourself
I've lived in Bealeton for 14 years with my four younger siblings, my parents, and my dog, Tessa. Growing up, I played a lot of sports: basketball, flag football, lacrosse, soccer, and, of course, running. Throughout high school, I've run cross country and track, played cello in the school orchestra, attended Mountain Vista Governor's School, and have recently co-founded the Black Student Union at Liberty.
What does living/having gone to school in Fauquier County mean to you?
Living in Fauquier has been an interesting experience. Neither of my parents are from here, my mom is from Ohio and my Dad is from North Carolina, so we don't have any family near here. Growing up, I always imagined myself leaving, living in a big city, and never looking back, but as I've gotten older, Fauquier has become home. I've definitely learned to appreciate the charm and beauty of living in a rural, historic area. Going to school here has also been great. I have made a lot of lasting memories and friendships as a student, and I am forever grateful for the teachers and opportunities that have taken me this far, but also hope that I've made a lasting impact as well.
What was your favorite subject in High School? Favorite teachers/coaches? 
My favorite subject has always been social studies. My Economics and U.S. Government teacher, Mrs. Dee Thompson, through encouraging my ventures in and out of the classroom, has played a major role in my wanting to pursue a career in law. My U.S. History teacher, Mrs. DeChristopher, has as well. I am especially grateful for her dedication in stepping up to bring a much-needed African-American History course to Liberty. Coach Quynh Nguyen has been my biggest cheerleader when it comes to running, and Coach Helene Leigh has been there since my freshman year to help along my running journey. Most of all, my mom, Coach Andrea Rodman, is, of course, to thank for my athletic success, but also for the lessons that I've learned and will take with me for the rest of my life.
Did you work part-time while you were in high school? Where? Did you learn anything?
During the summers before my freshman and sophomore years, I worked as a teacher's assistant for Fauquier's StarTalk language program. I attended the program as an elementary and middle schooler to learn the Turkish language and culture. StarTalk was an amazing part of my childhood summers, and to this day I still have a love and curiosity for learning new languages and cultures. This past summer, I worked briefly at Great Harvest Bread Company which was a very fun experience. It was my first customer service job which was interesting, to say the least.
What are your plans for the future?
I am currently committed to run track and field at Princeton University in the fall. I am beyond excited to meet new people, compete, and obviously, grow academically. I plan on studying at the Princeton School of Public and International Affairs and possibly get a certificate in sociology or psychology. After undergrad, I want to attend law school and become a lawyer. Overall, I want to have a career in which I can serve underprivileged communities to the fullest, and I believe a career in law and politics will do just that.