Veronica Brown
–
Thriving in College
Mason LIFE program introduces students with disabilities to university life
Above: Veronica Brown is enjoying every moment as a George Mason Patriot.
Veronica Brown of Delaplane is grateful "to finally have the chance to be a grownup." At 22, the junior at George Mason University lives on campus, attends classes, has an exciting internship, and is having tons of fun as a Mason Patriot. She's also learning to cook, budget her money and keep up with other tasks of "adulting." Veronica has Down syndrome and a tertiary diagnosis of autism.
When Veronica graduates from the Learning into Future Environments (LIFE) program at Mason, she will receive a certificate of completion in the areas of theater and music. She attends classes with her LIFE classmates, but is also enrolled in some traditional undergraduate courses, for which she's accompanied by an aide. Her favorite classes are Greek history, American history, and the Renaissance. "I want to learn different perspectives," she said.
Veronica also has an internship in the nation's capital. She and other LIFE students take the metro to work in government offices in D.C. where she scans papers, does data entry and other computer work, organizes bills and shreds papers. "I love it!" she said.
LIFE Lessons
Veronica remembers that as a freshman, she was homesick and a little scared. She didn't want to be away from her mother, Maite Dougherty. The semester was made even more difficult because of a troubling social dynamic.
Dougherty explained, "One girl was very possessive of Veronica. It got so bad, she kept her from leaving her room. It went on for a few months before we got the whole picture, and I left it up to the program to sort out. They're very well prepared. What it highlighted to us were some holes in Veronica's education. She has since learned to stand up for herself." She's also developed some other important tools, too: The ability to invite someone to go to the cafeteria with her, for instance, and the confidence to start a conversation with someone new.
Said Heidi Graff, director of Mason's LIFE program, "Sometimes the process that allows students to gain life skills includes the opportunity to make mistakes and learn from them." She remembers a student who forgot to check his bank account before going grocery shopping. When he swiped his card, he couldn't pay for his groceries. Graff said, "The student was upset but he doesn't forget to check his account anymore!"
At one point, Dougherty said, "I was going on about academics and putting too much pressure on her. She pulled back, had some down time and put a little music back into her life."
A non-profit in Middleburg called A Place to Be has helped Veronica reduce her anxiety through music therapy. This dovetails nicely with the mental health supports the LIFE program provides.
"Behavioral and mental health is a pillar of the LIFE program," Graff said. "We provide extra foundational help in that area and promote healthy practices and strategies for all our students."
Dougherty said, "Everyone connected with Veronica's education meets once a year to review all aspects campus life – academics, mental health integration; it's called person-centered planning. And no decisions are made about the student's education without the student present."
Graff emphasized, "I like to think of the process as a triangle. The student is at the top of the triangle. The student's family is one corner of the base and Mason LIFE is the other corner of the base. We must listen to our Patriot. They are always at the top of the triangle."
---
Camden Mitchell
–
Poised for the Next Step
George Mason's MASI program provides support for students with autism
Camden Mitchell's mother, Donna, didn't believe that her son would ever graduate from a four-year university. But in December, with the help of George Mason's Autism Support Initiative (MASI), Camden earned a bachelor's degree in government and national politics from the Schar School of Policy and Government.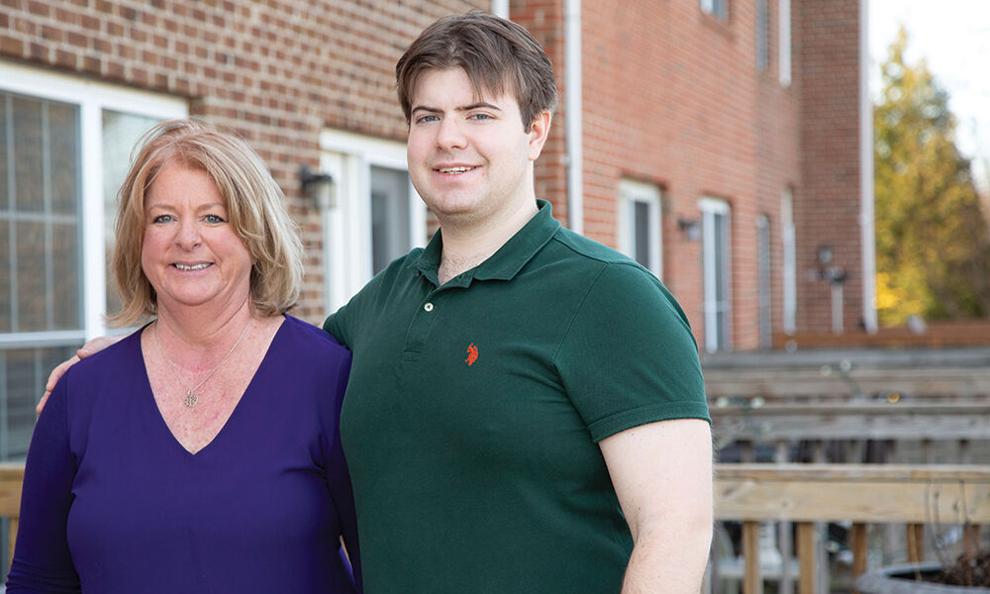 Camden's professional resume states that he's looking for a job in government. His mom thinks he'd be an asset working in a research or writing position. Camden smiled and said he's looking for something with "low-stress and high wages."
Camden, 25, of Warrenton, graduated with an advanced studies diploma from Fauquier High School in 2012 and, according to his mom, had a great experience in the public schools; he obtained an Individualized Education Plan (IEP) early on and had an aide to help him every day. "It was a very smooth process for us. We never had turmoil. He had wonderful teachers and a wonderful support system."
After high school, Camden enrolled at Lord Fairfax Community College. After two years he transferred to George Mason University (GMU) in 2014.
It was at a meeting with the Mason's Office of Disability Services (ODS) that Donna and Campbell learned about the MASI program. She explained, "It's a sub program of ODS. You have to apply and be accepted — and pay for it out of pocket." Through the MASI program, Camden had learning strategists to help him stay organized, register for classes, and search for internships. "They checked in with him once a week and were accessible any time by email or phone."
The MASI program also provided peer mentor support, students who have some background in working with students with developmental disabilities, to help with non-academic concerns — like socialization and having fun.
Although Camden's autism presents some obstacles, his mother describes him as "high-functioning." He did well in his classes at GMU and graduated on the Dean's List. His only academic accommodations included extra time for test taking and being able to take exams at the ODS office (a quieter environment).
Camden has difficulty with social cues, though. He said, for instance, "I have trouble recognizing sarcasm."
During his time at GMU, Camden lived on campus. Like all college students, he had to navigate roommates who were sometimes noisy and failed to clean up after themselves.
Recently he earned his driver's license and, with the help of his father, George Mitchell and his stepmother, was able to buy a car. Since he's been working since 2012 — he volunteered at a game store for a while and has worked at Dominoes and Ruby Tuesday's — having his license and his own wheels will certainly help with the next step in his development: working with a transition coach with the Virginia Department of Rehabilitative Services (DARS). "He has been a DARS client for years," said his mom. "They are going to help him with his job search."
He's also considering a master's degree in political science. "A master's gives you the chance for better jobs," he said.
In his spare time, Camden enjoys singing and collecting vintage video game systems, adding, "I don't just collect them. I tend to play them too."
When asked what he's thankful for, Camden said that he's most thankful for his family. "I have a family that loves me so much and does their very best to help me whenever I need something."
---
Alex Luna – Ready to Fly
By Frannie Barnes
Beth Luna of Nokesville lovingly refers to her son Alex as a child of opposites. He didn't speak until he was four. But when he did, he more than made up for lost time. He spoke three languages: English, Spanish, and his own special made up language, one whose words he often made his mom repeat, just to keep her on her toes.
Smart kid.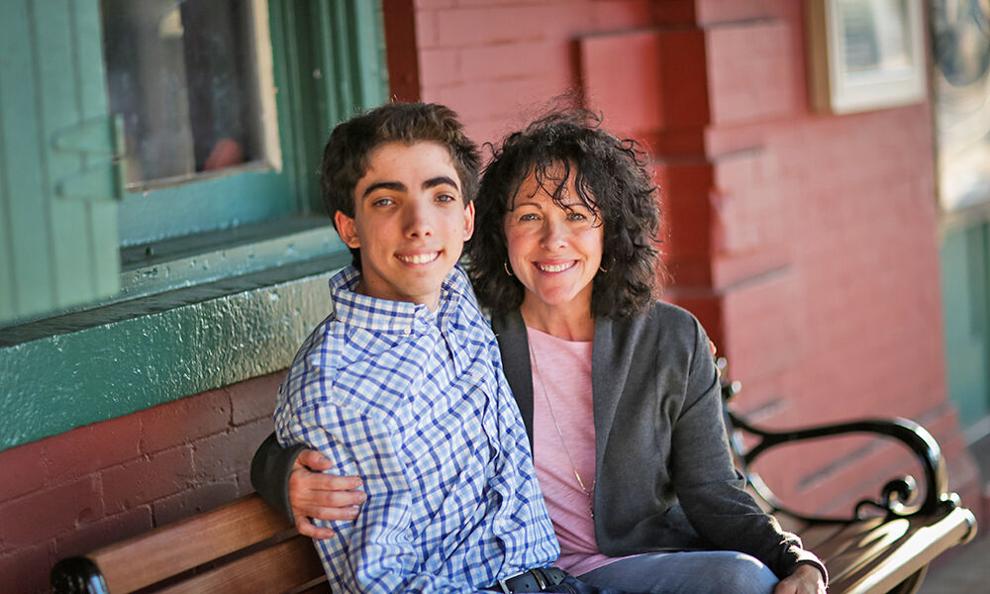 Alex has Asperger's and today the freshman at Northern Virginia Community College drives himself to school and to his job at a coffee house in Manassas.  He loves to travel and has an affinity for photography. In fact, he recently set up a new lens with the sole purpose of capturing the lunar eclipse.
"I've always felt life is too slow for me," Alex said. "Living in the suburbs and the country, people don't walk fast enough; they move too slow. I like the fact pace of the city." He likes it so much that his post-college plans include living in Chicago and then New York and working in the financial industry. Clearly Alex craves stimulation and continues to live up to his mom's "child (now man) of opposites" moniker.   
The Power of Independence
Raising her children with a strong sense of independence has been a main tenet of parenting for Beth, and the reason Alex attended a Montessori school when the family lived in Tennessee. It was there that a teacher recommended he be evaluated. He was, and a second evaluation two years later confirmed the diagnosis. Although the Montessori approach is a natural fit to foster self-sufficiency, traditional therapies and support for Asperger's weren't available and Alex moved to a public school. Luckily, the school he attended had an autism specialist and one terrific additional benefit: Alex's teacher had a son who was autistic, and she totally "got" Alex.
Childhood though, still had its challenges. Alex's parents kept him mainstreamed in school, appropriately independent for his age, and involved in typical childhood activities, but they quickly learned that despite his interest in sports, team sports weren't a good fit.  Cheering and yelling didn't mesh well with a child who was easily overstimulated and sensitive to loud noises. Alex's hearing was so sensitive that sounds most consider to be background noise could be heard by him, causing distress.
Work moved the family to northern Virginia in 2012, and Beth was hopeful she would find good resources here for Alex, then 11. While the schools had good teachers and offered support, specialists – even as far as D.C. and Baltimore – were lacking. It was then that Beth realized that if you have the correct diagnosis, you have the tools to get help for your child.  "Get the IEP, work with the teachers," Beth said. "Don't shy away from getting the proper tools to help your child." 
And when you need to, get creative.
As mentioned earlier, Alex loves sports, but the associated noise doesn't love him, so Beth and Alex came up with a plan to get him involved with his favorite sport, hockey. Beth called the hockey coach at Battlefield High School where Alex was a student. He was interviewed and got a job with the varsity team working in the penalty box, and then on the scoreboard. Now, as a student at NVCC, he works with the school's nationally ranked hockey team, a gig he got by himself.
Perhaps the best advice Beth offers is, "Don't be afraid to teach your child to be independent early.  As parents we tend to do everything. Teach your child to work toward being self-sufficient at a young age."