Writing to create a kinder future for kids 
In high school, Gainesville author Carylee Carrington was involved with journalism and went off to college assuming that was the career path she would take. Instead, she continued to finetune her writing skills while she majored in business. She has always felt inspired to write, but it wasn't until late 2017 when she began her first book. Her inspiration came from a place you might not expect… her son's kindergarten classroom.
Carylee is the mother of a 4-year-old and a 7-year-old. When her older son started kindergarten, it was his first time attending a public school. It was a larger, more diverse classroom than he had experienced prior to attending kindergarten. One day, "he was playing some friends and was told by one of them that he should be playing with children who are more of his complexion," Carylee said. 
"My husband and I hadn't had the race discussion yet," Carylee said. "My family is mixed, so that's not a topic that really came up. My son came home and said why can't everyone just be the same so we can all play together?" While Carylee could have taken this to heart and been angry, she decided instead to use it as a teaching opportunity. "I told him, everyone can play together. We don't need to all be the same, we just need to know that we have good hearts. I wanted to try to instill in him to be friends with everyone, no matter what."
That night, Carylee went to sleep having no idea that when she woke up the next morning she'd suddenly be an author – with a majority of the book she had no idea she was about to write already finished.  
"I woke up in the middle of the night and I could not go back to sleep. I grabbed my cell phone and was typing away and two hours later, I had ninety-percent of the book done," Carylee said. The topic? Not race. Everyone, Just Like Me is about a boy who has to get glasses.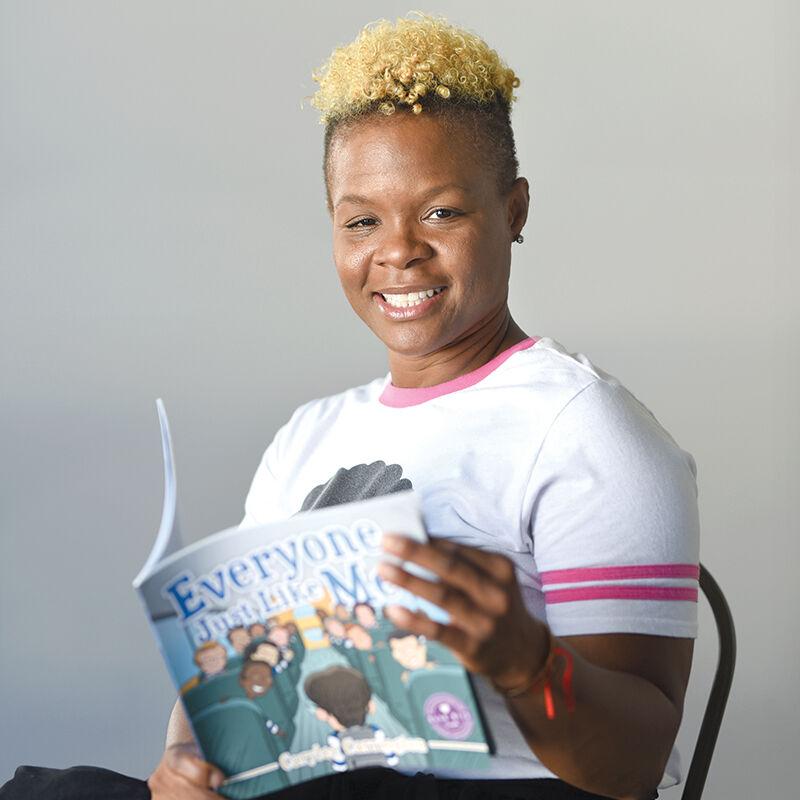 "Joshua feels sad. He must wear glasses, and he feels different than the other kids. He's the only one in his class with glasses. He thinks everyone will laugh at him. That night, Joshua finds a bright star and offers his wish. He wishes that everyone would be just like him. But when he gets to school the next day, things get a little crazy. He discovers there may be a problem with his request… A picture book for children, Everyone, Just Like Me, encourages kids to embrace their uniqueness. Through Joshua's special wish, readers learn that individual differences are what makes each person special."
After sending the book out to friends and family and receiving feedback, the response was an overwhelming "yes." After researching publishers, Carylee wasn't sure how to move forward. "I know sometimes you can send your work in and it may sit on the shelves for years," she said. "This is something I really wanted to get out, so I ended up researching self-publishing. That's when I found Archway Publishing, the self-publishing arm of Simon & Schuster." The decision was made.
Since publishing Everyone, Just Like Me in 2018, Carylee has gone on to speak at several local schools and events. "I have the flexibility to travel to schools in the area to talk to students about embracing differences and being kind to each other," Carylee said. "If people want to teach their children about embracing and respecting the differences of others and respecting the identities of themselves as well, this book will help them with that." 
Carylee's mission? "I want to create a kinder future for our children," she said. "We've seen things get a little shaky in the past few years, and having a 4-year-old and a 7-year-old, I want things to be better. I believe that, in giving children the information to be better now, it is going to help to create a better future for all of us." 
What can you expect next from Carylee? Not only does she have another book coming out, titled Pretty Hair, but Read With Carylee, a video podcast streamed at Jirani Coffee House in Old Town Manassas, begins airing November 9 through JiraniTV, YouTube and Carylee's website at readwithcarylee.com.
"I will be inviting authors from the area to come and read their books," she said. "I'll have a Q&A with them to try to promote the little-known authors in the area and also get them out there so that students and teachers will know them."
This "accidental author," as Carylee refers to herself, doesn't seem to be slowing down anytime soon. In the coming years, she hopes to continue to publish books with the mission of creating a kinder future for children everywhere.
For more about Carylee Carrington's books and new podcast, follow her on Facebook at @carywrites and visit caryleecarrington.com andcreadwithcarylee.com.