For this musician and teacher from The Plains, music became a cultural bridge while performing in Afghanistan in 2012
By Jodi Nash
Peyton Tochterman, now 43, grew up in Fauquier County, attending The Hill School where he discovered a passion and raw talent for music. There, a gifted teacher and professional opera singer, Don Carter, saw the spark and fanned his creative flames by putting him onstage in the school's talent show, where Peyton played drums on Van Morrison's "Into the Mystic". For two years, two mornings a week before school started, Mr. Carter mentored Peyton, teaching him songs from the Beatles, James Taylor, and The Grateful Dead, fostering in him a dedication for his musical craft and a desire to excel. Peyton, who graduated with a degree in English Writing from St. Lawrence University, stayed in hot pursuit of his dream, enjoying a 20 year professional career as a singer-songwriter and gifted raconteur, playing in 37 states, seeing much of Europe and China, and gigging in festivals, schools, on radio and TV shows, and at various performing arts venues. Home based in Charlottesville during these years, his music is traditional Americana, original and emotive, enabling him to forge connections with people from all over the globe, in all walks of life.
Up in Penacook, New Hampshire, Gary Green, now 66, got his musical start as a teenager slinging his harp (slang for harmonica) in high school halls, and teaching himself to play while hitchhiking. After relocating to Charlottesville, in 1987 Gary won the Hohner-sponsored World Harmonica Championships on the isle of Jersey in the UK, competing against world class harmonica players as a virtual unknown. Put thoughts of Bob Dylan aside—Gary's harmonica has the subtle force and power of a keyboard, violin or lead guitar. He played the Millennium Stage at the Kennedy Center and The Grand Ole Opry in Nashville, and was part of 50 some album projects before becoming the Audio Engineer at the historic Paramount Theatre in Charlottesville.
Their paths converged in 2001, when Peyton, then 22, had a big wedding gig at Ashlawn. He'd put together a stellar band, but needed a sound guy; that guy was Gary Green. While helping Gary pack up gear, Peyton noticed a couple harps on the truck seat. After talking and jamming that night, a profound friendship and musical alliance was born. Peyton and Gary played the mid-Atlantic states 5 to 10 times a year after that, until the demands of Peyton's touring schedule and Gary's audio engineering career took them in different directions.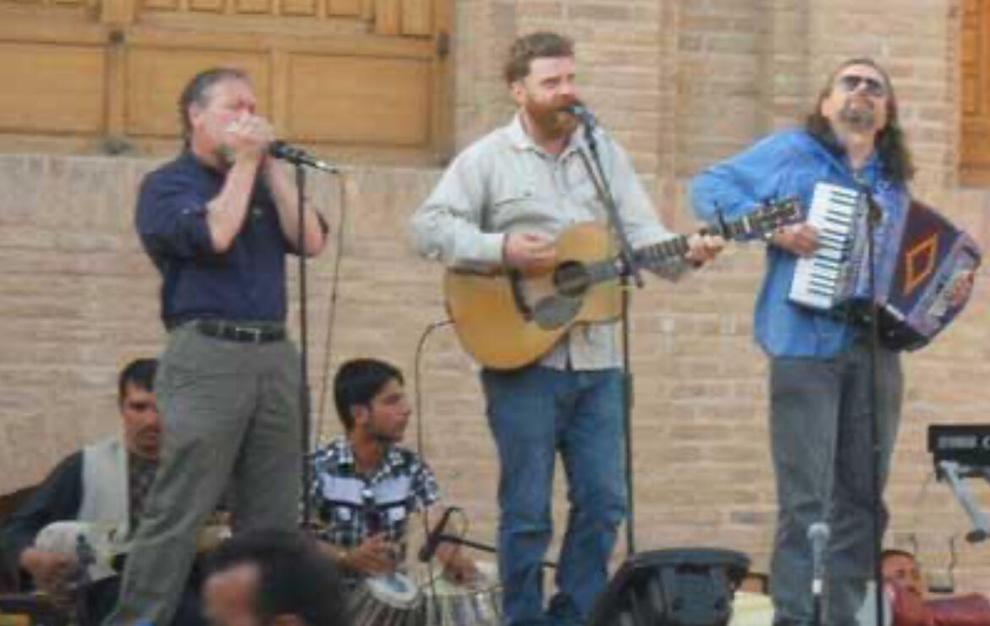 Then kismet intervened in 2012. The U.S. State Department, as part of a cultural outreach mission, was looking for a musician to play traditional "Americana" folk music for Afghan students, citizens, elected officials, military personnel, and diplomats (and occasionally, U.S. and allied troops). The opportunity fell in Peyton's lap, when the initial artist contacted declined to go. "I went for two reasons," comments Peyton. "First, I wanted to get my own eyes on Afghanistan, and not rely on TV or newspaper accounts. Second, I had great respect for our troops serving there, and wanted to be part of it." Peyton knew he had to choose his musical posse carefully. He needed seasoned performers who were not just technicians, but respectful travelers, calm and able to roll with the punches if things got sketchy. He called Gary. On May 26, 2012, the two (together with a third musician, Rad Lorkovic), traveled as cultural ambassadors from the Blue Ridge Mountains to the shadow of the Hindu Kush Himalaya, and the hotbed of war-torn Afghanistan.
With its long history of domination by foreign conquerors from Alexander the Great and Genghis Kahn, to the Arabs, Brits and Soviets, the kindness and warm hospitality of the Afghan people and their avid thirst for Peyton's songs and stories was astonishing. Expecting "a platoon of marines", they instead traveled casually in an armored car, relying heavily on their Afghan interpreter and driver, forming a deep bond with both. The group played mini-concerts, as many as five a day, and gave lectures in schools, gymnasiums, universities, and other locales, practicing "diplomacy through music" over the course of a month. There was TV coverage and radio spots, and Afghan news reports across the nation complimented them. Not so with the Iranian press, who described their music as "dangerous and evil". It was not until their return to the States that they learned Peyton had been blacklisted in Iran, which he views as a compliment. "That whole thing reflects how music is the essence of free speech, a language unto itself which can bring people from deeply different cultures together".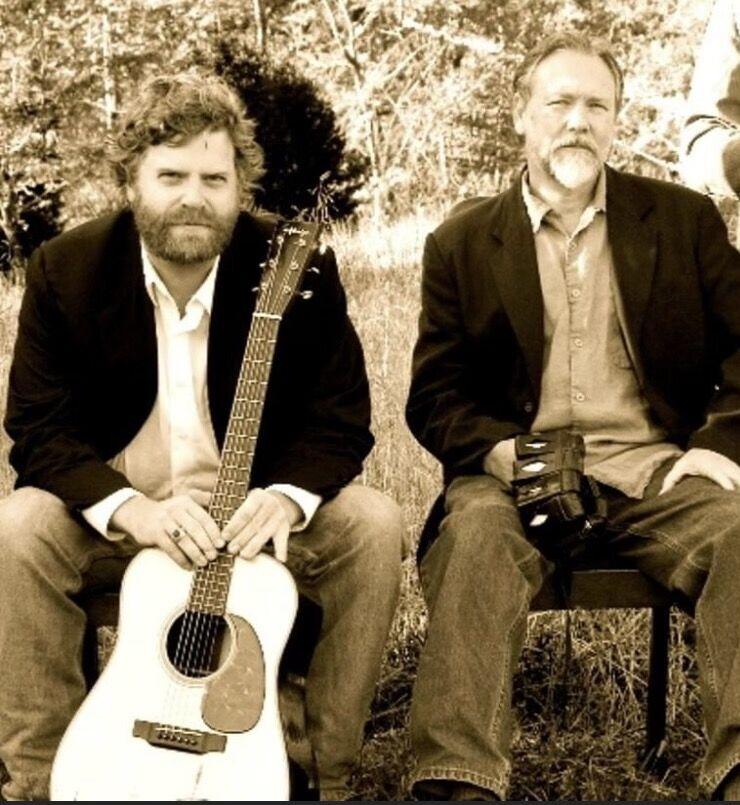 Safety and security were necessary concerns. "There were guns everywhere. You couldn't walk ten feet without encountering someone in fatigues with an automatic weapon." But rare moments of unease were far eclipsed by the enthusiasm of their Afghan hosts and audiences.
In Herat, the most ancient and third biggest of Afghanistan's cities, the group had two spectacular moments. On the roof of a secure government building, standing beside a sniper, Peyton looked out over the rugged terrain and saw a large dust bowl in the distance, its center a shimmering brilliant blue, moving steadily toward them. It was a group of 50 Afghan women, coming to watch a concert which was a dry run for their later performance at the Citadel. "When I looked out in the audience, I couldn't find them, until I realized they'd taken off their Burqas, and were silently weeping. They'd never seen live music before."
The second moment came when the Tochterman band, together with a handful of Afghan musicians from the newly formed Afghan Musicians' Alliance, performed together in the first cross-cultural outdoor concert in The Citadel, believed to stand on the foundation of a fort built by Alexander the Great. The oldest building in the city, surrounded by a robust security detail, was now the site of a musical mission covered by the BBC and Reuters, televised on national Afghan TV, and celebrated as a moving tribute to the epic power of the performing arts to connect people of different cultures, in a savage but sacred place.
It was the emotional apex of their journey, life altering. Peyton's view of the world expanded, his appreciation for his personal freedoms deepened immeasurably. Weary of the endless self-promotion that comes with touring, and realizing he loved learning and teaching, he switched his career focus to education, first teaching at Field School in Charlottesville, and in a serendipitous turn of events now at the Hill School in Middleburg, his alma mater. Teaching U.S. History and World Geography, Peyton also gives private guitar lessons, hoping to pay forward what Mr. Carter instilled in him – the drive to constantly seek and improve. Raising a young family in The Plains, enjoying life in the Piedmont, and playing folk music when life allows, Peyton wants to get Gary back here to play. That should work beautifully, since Gary came home changed too, and has rededicated himself to playing harp and performing.
The two musicians have a musical symbiosis obvious to anyone who's seen them play. Look for them at local music venues, wineries and restaurants. They're a sonic force, not to be missed.