Modal Music in Warrenton inspires passion to perform
Photos by Christine Craddock
The universal language of music spreads love, heals divides, banishes differences, and creates plain, old-fashioned fun for all ages. Some are happy just to listen, but if you are one of those individuals who feel compelled to create music, Modal Music in Warrenton is your local go-to.
The store was founded by Dan Mudge, who lives in Old Town Warrenton, and Chris Bauer from Rappahannock County, who currently play together in a comedy band called Loathsome Wind. Dan also has another band called Grass Fed which is known for its covers of Beatles songs, and Chris has another band called Make for Maine which is an emo rock band.
Modal first welcomed students and customers last December to their new Main Street Warrenton location, closing out a fickle 2020 with a bang by opening their doors for music and voice lessons, recording studio bookings, and instrument sales. Dan and Chris bring a wealth of talent, passion, and know-how to their new storefront with the hope of inspiring music lovers young and not-so-young.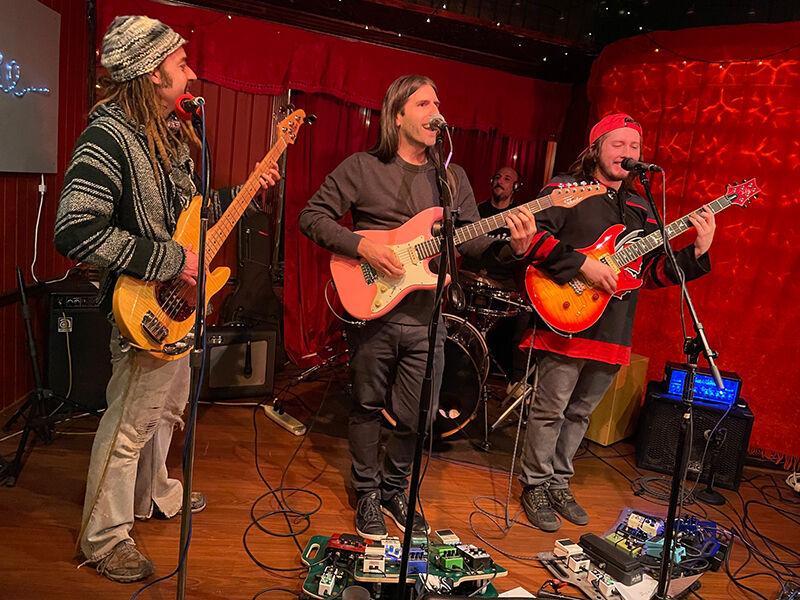 "We're known for our fun and engaging lessons. We specialize in any and all music genres. Whatever styles the student wants to learn, we can help. We encourage our students to perform both solos and in groups, such as rock bands and school orchestras, and Dan occasionally runs rock band classes," said Chris.
"We were so welcomed here," Dan shared. "It is surprising how many people stop in just to say how glad they are we are here, to see what we are about and what we do. We have started connecting with the community – we have some students now whose parents run businesses here in Old Town – that is really cool."
Modal offers lessons in guitar, bass, ukulele, piano, and violin as well as vocal lessons, songwriting, music theory, notation, and more. "Most of our students come in between 2 p.m. and 8 p.m. any given day, and we can teach 8 to 12 lessons per day," said Dan. Students of all ages and levels participate; Modal specializes in listening to each student's goals and customizing a path. "I have a lot of adult students, several who have been retired for a number of years and decided that now is the time," Dan commented. "They thought they were too old or couldn't do it – and that is not true at all. Some are in their 70s, and they have really progressed and learned to play songs. Whether they are seven or 70, it's always great to see them learn a song they've always wanted to play and go through that process."
One particular student dreamed of performing at an open mic night, and Modal helped him get there on his own terms. "This was one of our goals from the start," Dan said. "Not long before the pandemic, we practiced and prepared, and then went to Fat Tuesday's where I performed and then he took the stage and performed. We put together a few more songs, and then we went and performed again. Now, we are working on a couple of duets, and when they are ready, we will be back out there!"
Along with a wide array of lesson offerings, Modal's recording studio is a real asset to the area. Sitting between a home studio and a fully professional operation, they offer studio time, engineering, songwriting, arranging, and session musicians, so truly anyone with a song to record can use the facility. "We wanted to offer the recording studio," Dan said, "and it has really been popular over and above music lessons at this point."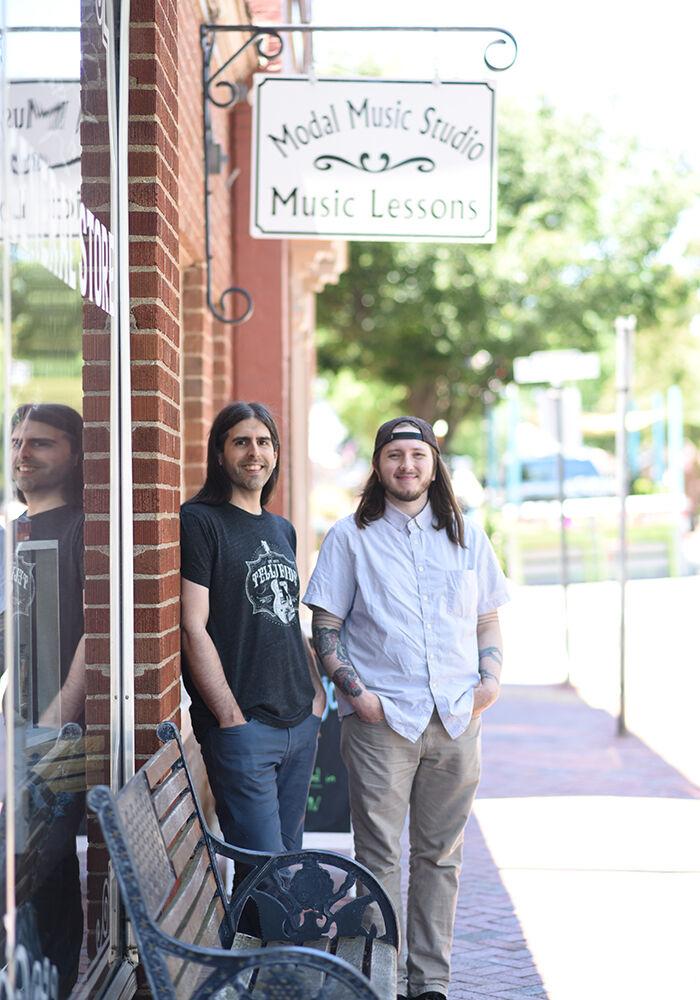 One eleven-year-old student studying voice with Modal vocal teacher Hayleigh Wilson had some lyrics and wanted to write a full song. "Our vocal teacher helped him build the song from the lyrics he had, and then we recorded it," Chris shared. "Another student had recorded a guitar/vocal album, and we added woodblock, bass, and more. Whatever is needed to begin or even finish out a song or project, we can do it!"
The Modal walls are lined with guitars for sale – some new, some refurbished, some under consignment for students and friends, and some from Dan's personal collection. "We are shopping for guitars to purchase and then upgrade with something custom, get set up, and offer for sale," said Dan.
Dealing with the business side of music for Modal – like searching out vendors – is helping the pair to expand their skill set. "We are working on stocking more products, like picks and other guitar accessories," Dan said. "It's a whole new thing we are learning about – vendors, distribution deals, taxes, running a business." Chris added, "We are constantly learning and expanding, trying to be modern and push the envelope." "It takes a lot of time," Dan said. "We work long hours doing a job we love — but even so it can be exhausting!"
Modal is talking to the Town of Warrenton about performing in front of the store so they can showcase both themselves and their students. "Most performances are in venues where you have to be 18 or 21, so our students that are younger can't see us perform," Dan shared. "I was lucky to be able to see my teacher perform when I was 13 and 14 when going to a bar for live music wasn't an issue." They believe it's unfortunate that these days, live music isn't the chosen activity it once was. "Live music was everywhere, and people loved to seek it out," Dan said. "Getting our students to see that it is a fun activity and exposes them to the idea of it is something we really want to do. Hopefully, we can get more live music into people's lives and inspire the next generation to keep music as part of their extra-curricular activities."
Modal continues to offer virtual lessons to those who are more comfortable that way; 80% of lessons are now in person. "We expect a surge in the Fall, once families are back on a schedule and looking for additional activities." Stop in, take a look, chat with the staff, and you too may be inspired to sign up your child, or even yourself, to start some lessons and create some music!
Modal Music Studio, LLC
90 Main St. Warrenton
540-216-7193