One Kitchen, Many Menus
Ghosted Concepts was a relatively secret sensation… that is, until the Haymarket restaurant's Nashville Hot Chicken Sandwich put them on the map.
Owner and chef, Carmen Sabia, and his wife Stephanie, founded Ghosted Concepts as a pop-up restaurant and virtual kitchen in September 2020. Sometimes they traveled around town with their delicious sandwiches and seasoned fries and cannoli's, and sometimes they set up under a red tent in front of the QBE building along Washington Street. That location was meant to be because in January of this year, Chef Carmen found a home kitchen inside the building and has been personally delivering pick-up orders to customers in their cars ever since.
Born and raised in Chicago, Carmen worked in both the corporate and private restaurant worlds. The last 30 years has allowed him to gain the knowledge and experience of working every aspect of the food business, from fast food to fine dining and everything in between. In 2008, he opened his own restaurant in Arizona, SamBellas, named after his daughters Sam and Isabella. Unfortunately, the economic collapse forced Carmen to close.
"It was a very, very difficult time," he says, of the financial hardship his family endured.
When he left the corporate restaurant world in December of 2019, the pandemic hit and again the world seemed to be fighting against him. But this time he knew he had to shift his focus. While in quarantine, the idea behind Ghosted Concepts was born and he began the work of obtaining a license, finding a commercial kitchen, and creating menus and logos.
The traveling pop-up was successful, but Carmen knew having access to a permanent kitchen would allow him to serve more customers as the business grew. The stars aligned and, with the help and support of Miguel Pires of Zandra's Taqueria, Chef Clarke Congdon of Georgetown Caterers, and Jen Loeffler of QBE and Old School Kitchen, a space was offered to him in the QBE building.
"Someone is looking out for me," says Carmen, and whoever that is has continued to lead him to growth and prosperity.
"It took me a long time to get to where I am today, but I am so grateful for those experiences because I've learned so many things and it's helping me now," says Carmen. This realization and insight is what leads his business philosophy. Ghosted Concepts was a dream, and he is living it out the best way he can.
Chef Carmen takes nothing about his business lightly. There is a reason behind everything he does. When you order from Ghosted Concepts, he delivers your order to your car himself. Why? "Because no one does that," he says. The kitchen is closed on Sundays. Why? So that he can spend time with his family, especially his three children, when they are not in school. The famous chicken sandwiches are currently $5 and people have asked him how he could sell a sandwich so inexpensively. His response: "Because I can."
Ghosted Concepts is a one-of-a-kind restaurant experience. Carmen believes there are far too many different styles of cuisines in the world to experience just one at a time. Thus the idea behind Ghosted Concepts is to enable customers to enjoy several different cuisines at one time from just one kitchen.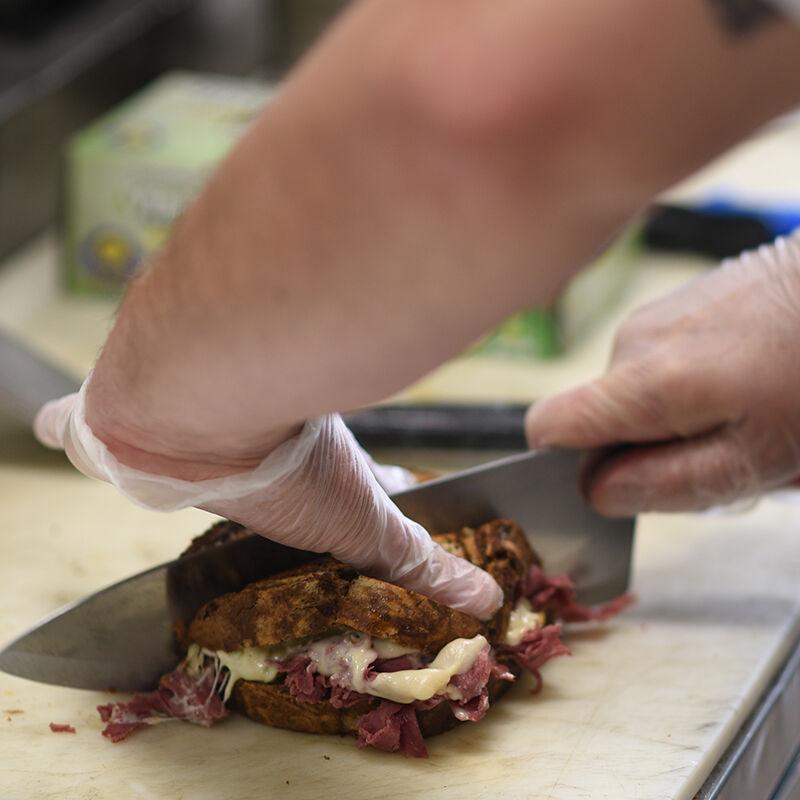 In the beginning, Carmen says he and his wife Stephanie were working together to spread the word about Ghosted Concepts but that changed quickly. When over 150 new customers explained that their wives sent them to "get one of those sandwiches everyone's talking about," Carmen realized Stephanie had a knack for appealing to the masses on social media. That's been her role ever since and he stays out of it, he says, and concentrates on cooking. "I could not do this without the support of my wife and my family," Carmen explains.
Chef Carmen is one of the most grateful people you will ever meet but he tells it best in his own words. "The community has responded with overwhelming support. I could not have pictured a better place than the town of Haymarket to start out in. They have helped spread the word about Ghosted Concepts and my family and I are so grateful for all of their support, telling their friends and posting on social media."
---
 Ghosted Concepts
Located at the back of 14600 Washington St., Suite 149, Haymarket.
Open Monday-Saturday, 11:30 a.m.-8:00 p.m. Closed Sundays.
Place orders via doordash.com, seamless.com, and grubhub.com
Web: GhostedConcepts.com
Email: info@ghostedconcepts.com
Facebook: @GhostedConcepts