Akasaka Sushi & Japanese Steak House Offers Customers a Welcoming Atmosphere
Story and Photos by Annie Peroutka
After 13 years working at a sushi restaurant in South Carolina, Trixya Lee pondered her future. A single mother of four, Lee was looking for her next career move as her kids were getting older and ready to "leave the nest." A close friend knew of a restaurant owner who was planning to retire and looking to sell their business. 
"I saw the potential and moved to Manassas with my four kids to fulfill our dream of owning a business that I can operate with my family," said Lee.
Almost three years have passed, and Lee is the proud owner of Akasaka Sushi & Japanese Steak House. Located at 10788 Sudley Manor Drive in Manassas, Akasaka specializes in hibachi and sushi cuisine. To Lee, Akasaka is much more than a restaurant. It's a place where people feel welcomed the moment they walk in the door.
"I genuinely like talking to my customers and creating a connection and relationship with them," shares Lee. "It makes me so happy to see regulars and newcomers visit us. I want to create a community here and make everyone feel welcome."
Akasaka boasts eight hibachi tables and numerous additional tables in the front of the restaurant that can be used for either hibachi or sushi orders.
"I was surprised by the increase in the number of sushi customers at our restaurant since our main focus is hibachi," says Lee. "Since I have previous experience in sushi, I am also capable of being a sushi chef and have put a lot of effort into improving the sushi menu and dishes here." While the price of ingredients has risen due to the COVID-19 pandemic, Lee has ensured that the quality and quantity of the restaurant's food does not change despite any circumstances.
Lee's staff of 18 includes her four children, but she says that all of her employees are like family to her. Customers also note the family feel of the restaurant.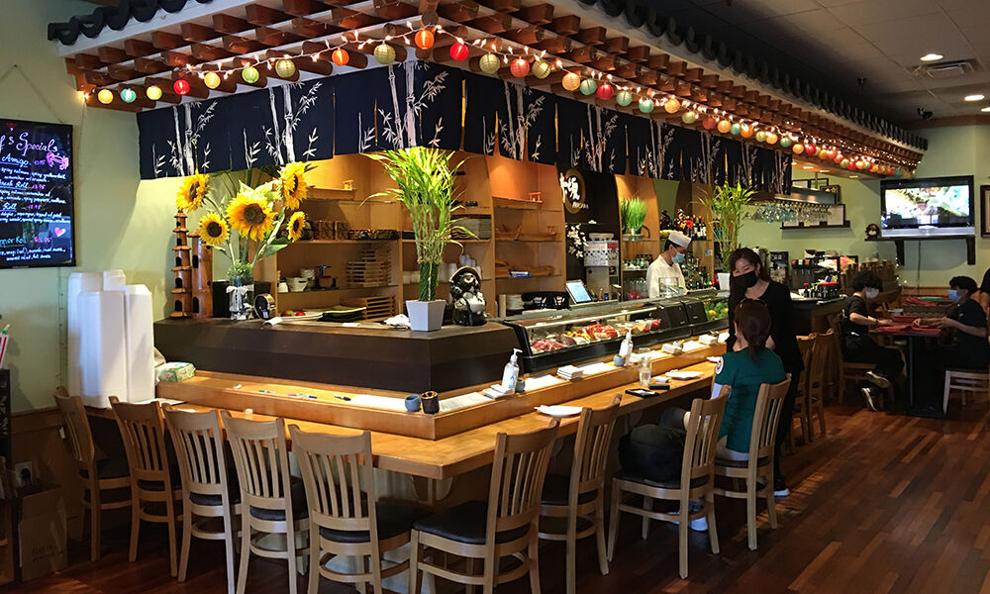 While Lee has updated Akasaka's sushi menu over the years with innovative ideas, her eldest daughter has enjoyed expanding the establishment's drink menu.
"We are Korean," said Lee, "and my daughter experimented and researched a lot of the drinks popular there, and most of our new drinks are very fruity and delicious. I've been very happy to get positive feedback on them!"  Akasaka's drink menu has more than 20 alcoholic mixed drinks, including the popular Mai Tai and June Bug options. 
Lee has come a long way since she first moved to the United States and was working at a sushi restaurant. At that time, she didn't speak much English, so she would communicate with her coworkers and customers using body language and simple phrases. Over time, Lee learned English and today her favorite part of the job is talking with her customers and creating lasting relationships with them.
Akasaka employees go out of their way to make customers feel special for their birthday celebrations. This includes a fun song, balloon hat and polaroid photo.  Said Lee, "Doing the birthday song event is my favorite thing in the whole entire world! It makes me so happy that someone would come and celebrate their birthday here at the restaurant, and they want us to be part of that celebration! My kids joke that they lose their voices by the end of the night after doing multiple birthday songs, but I find great joy in doing them." The birthday polaroids line the entryway of Akasaka, showcasing all of the fun times at the restaurant.
In Korea, Lee held a "balloon art certification," which allowed her to create balloon decorations on TV shows and broadcast programs. Fast forward to the present, and Lee still loves creating balloon art and sharing it at Akasaka.  During the holidays, Lee makes a big balloon Christmas tree, and decorates with balloon hearts for Valentine's Day and Mother's Day. "I enjoy seeing my customers come in and like the decorations and take pictures with my work and just enjoy our restaurant," she said. 
"The owner was really sweet and wished me a very happy birthday," remembers Ben Coyle, a Manassas resident, who recently celebrated his birthday at Akasaka.  "I liked the family ambiance. And they left me wanting to come back."
Akasaka is open 7 days a week, with Fridays, Saturdays and Sundays being their busiest dinner hours. Said Lee, "My restaurant doesn't open for lunch from Mondays-Fridays, so our hours are relatively short compared to other restaurants that operate all day, but my main goal isn't to make money by selling food. It's to create relationships with my customers and to be able to spend time with my kids."