The Process of Fitness
Have you heard the phrase "you've gotta learn to love the process?" I love this mindset and encourage adult clients as well as athletes to develop it. But in reality it's easier said than done. In today's world of immediacy (texting, emailing, responding, and overall social media urgency) our brains are now wired for instantaneous results. But when it comes to improving our fitness and health, the changes never happen as quickly as we'd like.
I was recently asked "who is your typical adult fitness client?" It was a pretty easy question to answer. Typically adult fitness participants are between the ages of 30 and 80, and most are looking for weight loss; the more senior clients are thinking more in terms of longevity. Most individuals are interested in looking and feeling better. And most have no idea how long it takes, the consistency involved, or the amount of effort required to improve physically. Many of these individuals have previously had small and unsustainable results with other fitness attempts, whether in a gym or a home program.
What is important? Coaching.
Consider a selecting a place that will help you attain the greatest fitness possible per dollar and hour spent. Constantly improving exercise programs and nutritional education has always been a crucial part of the fitness process. Facilities need to stay up to date on the latest fitness research and adjust your training programs accordingly. A professional trainer can assist you with all of this. Find a place, like ours, that will focus on client results, not membership sales.
The key to how fitness is accomplished is simple: a good coach.  A coach with a positive attitude, proper technique, who relies on effective, evidence-based programs is what you need to look for. The coach should also emphasize pre-workout preparation and post-exercise recovery. Even proper meal preparation and better nutritional strategies are important when coaching individuals to achieve their goals. It is important that the coach also provide suggestions on general lifestyle improvement and reinforces the overall positive effect that exercise has on your body, both physically and emotionally. The coach should also help you with fostering a positive camaraderie among other clients. Good support is essential. These are all things that are missing in a do-it-at-home approach with youtube workouts and healthy cookbooks.
The benefits of coaching.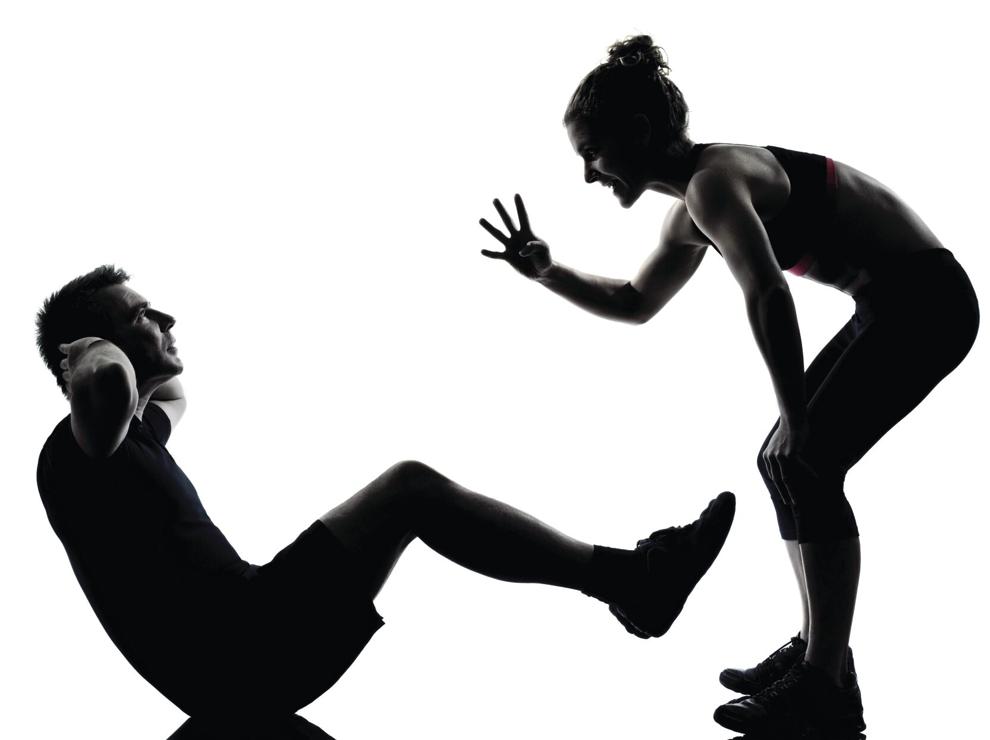 Regardless of what fitness level you are aiming to achieve, true fitness is about consistently working out three to six times per week and committing to making better choices at every opportunity. Understanding intrinsically WHY you want to do this and determining what will motivate you on the tough days are both crucial. Because it's NOT going to be easy. Anything worth having never is. You must also adopt healthier nutritional strategies and change your lifestyle. That's what it's all about. Don't just learn a new workout or count on a 21-day quick-fix routine—it's not enough. You need a coach to teach you how to train, to master the correct training techniques and to enjoy the process of your fitness routine. If you're not sure where to begin, consider all of the ways a professional can help you embrace the process.
Coaching will help you:
Develop a better mindset that focuses on health while keeping in mind your aesthetic goals.
Create better lifestyle habits.
Develop better meal prep skills and restaurant eating strategies.
Learn to care for your body with soft tissue and mobility work. Get to the facility early and prepare your body for the demands of training.
Embrace the entire dynamic warm-up, that's what keeps you feeling good and keeps you from getting injured.
Understand "training intensity" and getting out of your comfort zone without overdoing it.
Learn how to incorporate outside activities such as 5Ks, adventure races, hiking, or marathons without overtraining.
Improve your athleticism. You may never be a professional athlete or an Olympian, but everyone wants to move better.
Get stronger! Not Olympic lifting, but improving functional strength so that you can do more in your everyday life at home and work.
Become more mobile and have less aches and pains.
Increase your cardiovascular capacity! No, you don't have to run a marathon to improve your conditioning. High intensity metabolic circuits will do the trick.
Improve your body composition. We all want to look better and have great medical check-ups.
Sleep better and have more energy.
Think more clearly and be more productive at work and home.
Sounds like a lot to do right? You might be thinking, "Man, I need to improve in so many ways, it's just too much for me to take on right now. With my family and the kids' sports schedules, my work, and my social life, I'm tapped out!" You have to schedule training, just like you schedule the rest of your weekly calendar. It's that important.
You need coaching. And we know that it's extremely hard to improve without assistance; sheer effort will only take you so far. Learn to love the process of fitness.