Adult cardio dance classes in Warrenton
Story and photos by Lindsay Hogeboom
"Sassy. Sultry. Sweaty." This is how Jaime Lynn Henderson, Warrenton resident and artist, describes her new adult dance fitness class.
Each Saturday at 9 a.m., Henderson gets together with a group of dancers and non-dancers alike at Allegro Community School of Arts' dance studio on Fourth Street in downtown Warrenton to start the weekend by getting their heart rate up while breaking it down.
The Inspiration
For much of her life, Henderson danced — at ballet classes as a child, as captain of her high school dance squad, with a competitive dance team during college, and more. But by the time she reached graduate school, "I thought I had sort of aged out of it," she says. "I thought it was over for me until a friend that I worked with told me to check out this dance class called WERQ."
WERQ is a cardio dance class, similar to Zumba, that is taught at gyms and dance studios across the country. "I went to this class and it was packed," says Henderson. "It was seven o'clock on a Tuesday night, and the music was blaring — all the music that you're already listening to on the radio, all the good stuff —and it was 60 minutes of dancing."
"This was really my foray into what we call cardio dance, or dance fitness," she explains. "The emphasis, I think, is first on the cardio aspect and second on the dance aspect. It's just a really, really fun version of an exercise class, and you get to do it by shaking your booty with all your buddies, or making buddies if you don't have any."
Bringing Dance Fitness to Warrenton
When Henderson moved to Warrenton from Chicago in 2020 during the height of COVID to be closer to family, the pandemic hindered her ability to get out and meet people by taking part in group activities she loves, such as dance. But as the effects of the pandemic subsided and she began to look for dance activities to take part in, Henderson realized there weren't very many available for adults in the area. "I knew there were two dance studios right down the street, and I thought, 'If someone would just let me in! Let me turn on some music and dance for an hour and feel that again. And, I bet you if I introduced it to some other people around here, there might be a following."
Henderson took initiative by contacting Lachelle Yoder, co-founder of Allegro Community School of Arts, to ask if she had the time and studio space available for Henderson to host a class similar to the WERQ classes she had grown to love. "[Yoder] set up a meeting with me and she was lovely, and interested in it. She said, 'I have some parents of our kids who are in dance classes, and the parents are asking if there is anything for them.'" Similar to Henderson, many other adults were feeling the effects of the pandemic and were anxious to start interacting and getting active again. "She'd been hearing that already, so when I came to her, the groundwork was potentially already there for it to work," says Henderson. "So she was very gracious, and was like, 'Sure, let's give it a shot!'"
Henderson began choreographing the routines, and in mid-August, hosted her first class. Each class is 60 minutes, during which time participants move to approximately 16 to 20 songs, each with its own routine. Henderson says that the first class is typically the most difficult, because that's the first time the dancers are seeing the routines. "There's a format I follow that's helpful," she says. "The first time you see a move, you slow it down to half speed for the first eight counts, and then speed it up to its full speed." The routine then repeats throughout the song, giving participants the opportunity to learn the moves before putting their full energy behind them and burning some calories.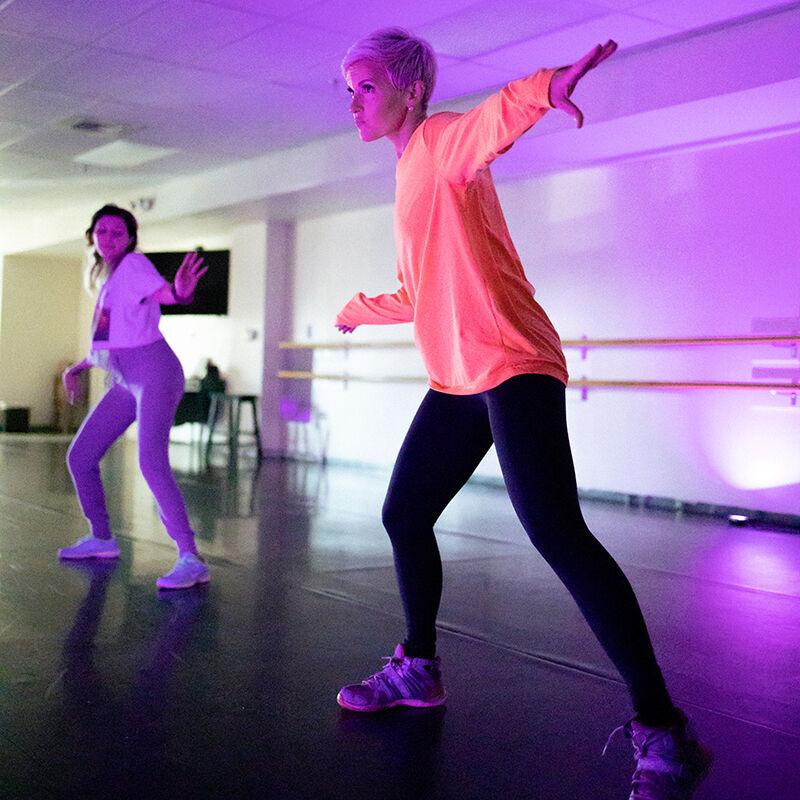 "It's really important to me that I create an environment that feels very welcoming, very open, very energetic, and has this sort of party mood," she says. "I bring in some pink spotlights, drop the lights down low and close the blinds so you can really get in the zone." She explains that this atmosphere helps to ease some of the self-consciousness that some newcomers may feel and emphasizes that the class is open to anyone and everyone — regardless of their age, gender, or previous dance or exercise experience. "I try really, really hard when I'm leading and instructing to just keep encouraging everybody and reminding them, 'It does not matter what you're doing. We're like 10 people in the middle of the country dancing to Britney Spears at nine o'clock on a Saturday. We're here to have fun, and that's it.'"
Henderson also says it was important to her to make sure the class was accessible by providing a flexible schedule and fee structure. "The thing with adults and classes is they need drop-ins," she says. "They need to be able to just decide on a Saturday, 'You know what? My girlfriends are in town — let's go take this cardio dance class together.'" Classes are $15, and anyone interested in trying their hand at cardio dance is welcome to pay at the door via credit card with no membership or registration required.
The Reviews
For Henderson, part of the joy she gains from the class is in the performance aspect, but she explains that each individual can take from the class what they like. "It is perfectly fine if you just want to use the class as exercise — you do not need to make it this alter ego, Beyoncé-esque, sassy experience for you," she says. "I need that to get through my day, but not everybody does. But, if you do want that, you can do it here."
Additionally, Henderson says she has loved getting to know her community via dance fitness. "I was really surprised by how much it meant to me to have people take the class," she says. "I recognized in meeting people that I didn't know and seeing them, for an hour, put themselves through something new, how vulnerable people really are, and how brave they are. I have a newfound appreciation for the human experience of trying something new."
Amanda Dean, a class regular, says she likes that dance fitness is a positive way to start her weekend. "It's been a really good way to get out of the house, especially during these weird times, and just be active. This is the first time I've ever done a dance class like this, and I've really liked it," she says. "It's been really good."
Robin Cooke, another dance fitness enthusiast, says, "Jaime is a talented dancer and supportive teacher. Her positive energy makes every class fun. The dance moves are not overly complicated for someone like me with no formal training but challenging enough to give me a great workout that keeps me smiling the whole time."
At the heart of the class, Henderson says, is one goal: "I just want people to have an option for movement that is joyful."
To learn more, visit the Allegro Community School of the Arts website at allegrocsa.org/fitness-at-allegro or Henderson's Instagram, @jaimelynnhenderson2.