We may recognize the dogs (and owners) who live and walk in our neighborhood. And many of us have cats as companions as well. But there are some unusual pets that live among us that go beyond the typical. Meet your animal neighbors, introduced by their owners, and you might learn something new about someone!
Everest and Skye the Rats
Courtney Sellers, Warrenton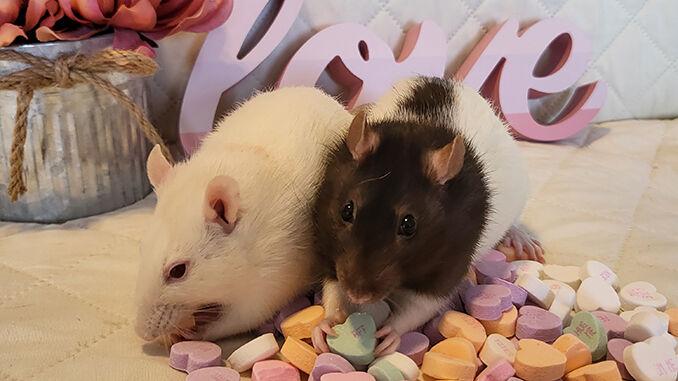 Our rats Everest and Skye — named after characters in Paw Patrol — belong to my daughter Ophelia. She carries them around, loves to tuck them into bed, pretends she is a veterinarian, and builds "houses" for them from our recycling. They are most active at night; we hear them running on their wheel and chewing toys. When we first got them, she played with them in a small ball pit which they quickly discovered how to jump out of. Now, they live in the laundry room where she can shut the door and play with them safely.
Everest (albino) is my daughter's favorite because she is cuddly — she will let you hold her like a baby on her back. Skye (black hooded) prefers to run on the wheel, climb, and explore.
Rats are surprisingly smart, food-motivated, and can learn simple tricks. They are also very clean and reorganize their space to their liking. They eat rat kibble, a mixture of seeds and nuts, mealworms, and fresh fruits and vegetables.
Pet rats generally live 2-3 years. There's no doubt they will leave two rat-shaped holes in my daughter's heart when they go.
Leo the Turtle
Mike Di Silvio, Warrenton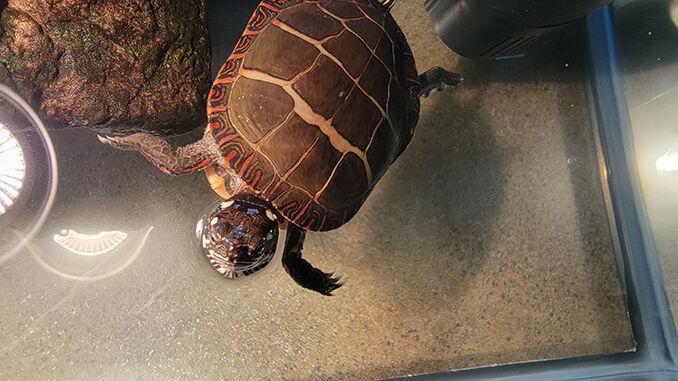 My wife Rachel is a high school biology teacher and a student donated Leo the water turtle to her. Leo is a classroom pet but spends time at our house during breaks that are longer than a weekend. He appears to be an Eastern Painted Turtle, which is a native species. Leo gets a small amount of turtle-specific food every day and freeze dried shrimp as a treat. His life is a cycle of basking under a heat lamp and swimming in the water. He's a very active guy — any time someone approaches his tank, he'll jump off his basking platform and swim excitedly up to you. Water turtles typically live to be between 20 and 30 years in captivity.
Molly the Pig
Heidy Knighting, Warrenton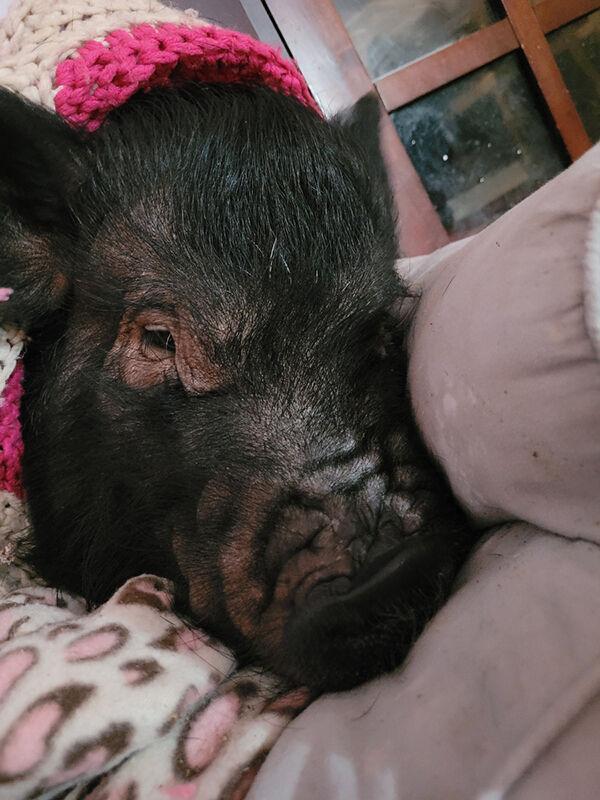 I did a lot of research before I decided to get my pig Molly; I always wanted one because they are super smart and cute (at least I think so)! I was hoping she could be litter boxed trained, and she is, but it has to be a very large box!
Molly is a very spoiled house pig weighing 45-50 pounds. She sticks to a certain routine. If I do not get up right at 6 a.m. to take her out, she oinks at the bottom of the stairs. After she does her business, she wants her breakfast and some love, then it's back to bed. I work most of the day, so she lounges and plays with our four cats. I found a stray kitten who we named Timmy, and he became her baby! She snuggles and kisses him whenever he is near. She loves to visit our neighbors.
Molly loves summer when she can take her time outside and will oink to stay out. She hates the snow when it is deep, and by deep I mean anything that rubs against her belly and makes her cold. I have to shovel a path for her. We have had Molly for six years — pigs live to be around 20 years old.
Mr. Shemp the Turkey
Susan Hilleary, Warrenton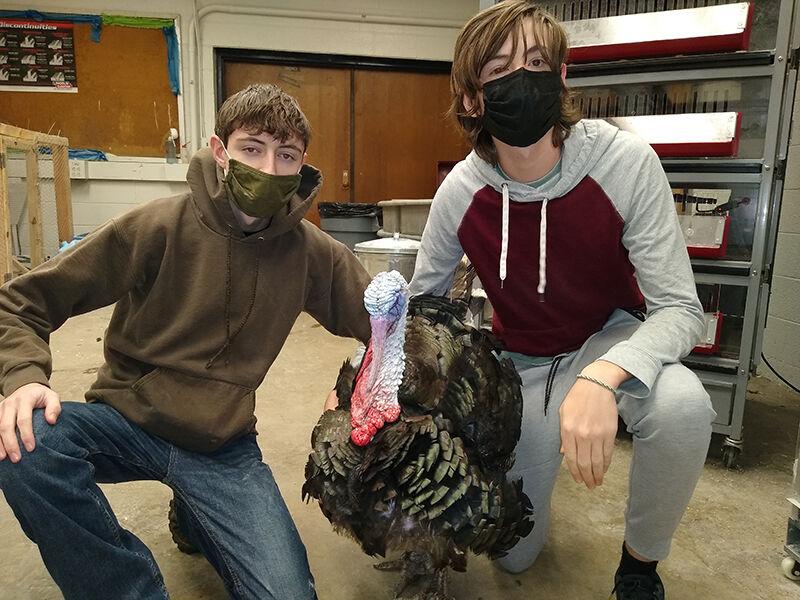 We purchased Mr. Shemp at a poultry auction at the Fauquier Livestock Exchange for the Fauquier High School Animal Science classes I teach. We went to experience the process, and we bid on him and won. He had been raised by a little girl who had to let him go; the family was very happy that he went to us rather than a dinner plate.
Mr. Shemp lives in the hatchery at school with the chicks we are raising. He takes a walk several times daily and is cared for by the Intro to Animal Sciences class. The students are very attached to him, though many were afraid of him at the beginning of the year. Students clean his pen and provide fresh food and water for him daily. He lives at school year-round, and a few volunteers and I care for the animals during breaks. Mr. Shemp is very friendly and likes to be around people, strut around, and likes when people pet his head.
Hobbes the Ferret
Adelina and Keith Blankenship, Bristow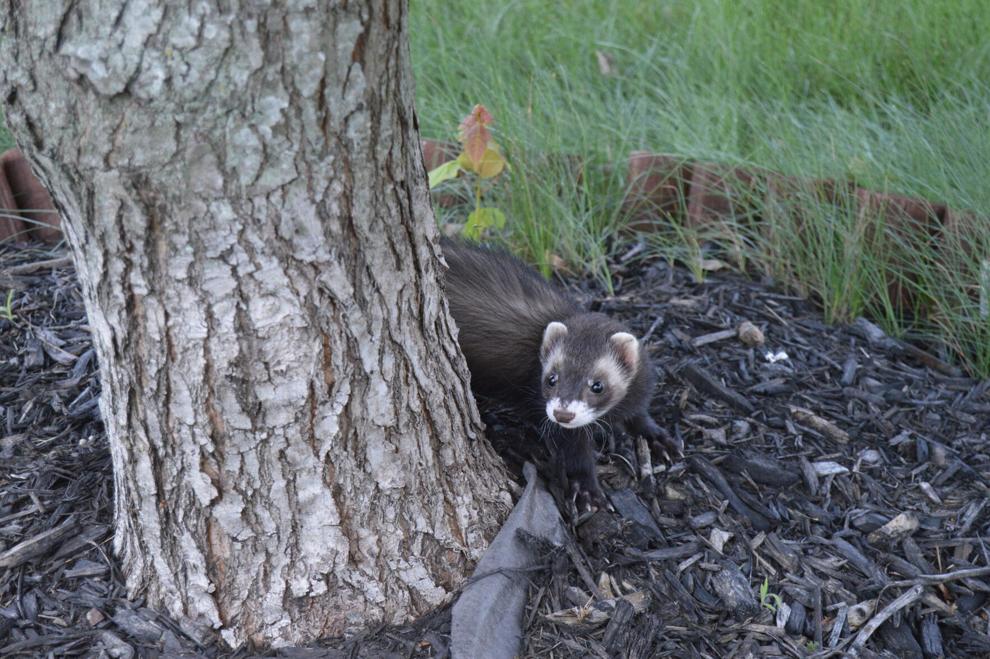 Hobbes is without a doubt the most interesting animal that I have ever encountered. A ferret has a shockingly high IQ, the self-esteem of a British commando, the ethics of a mob boss, and the affection of a grandmother. Hobbes is cleverer than any border collie that I have owned – and my current border takes trash bags to the trash can and waves through the window to children as they exit the school bus.
The first night at our house, Hobbes escaped and aggregated our sandals, and only our sandals (ignoring our shoes), stashing them in proper pairs under a desk. He shows an interesting array of complex emotions when we wear the sandals he now stores under a curtain (which is convenient because it is by the front door).
He climbs, chases, fights, plays, reasons, shares, and emotes. Hobbes has a variety of stuffed animals that he has either pilfered or been sent by my relatives. He hides them around the house, and if moved, he returns them to their "regular place." He sits on my car dashboard while I drive, visits stores, and loves to play on the hay bales at the battlefield park.
Hobbes is now three years old; ferrets tend to live about six years – and I believe he has packed a lot of living into those three years.
Reptiles
Rachael and Matt Butler, Marshall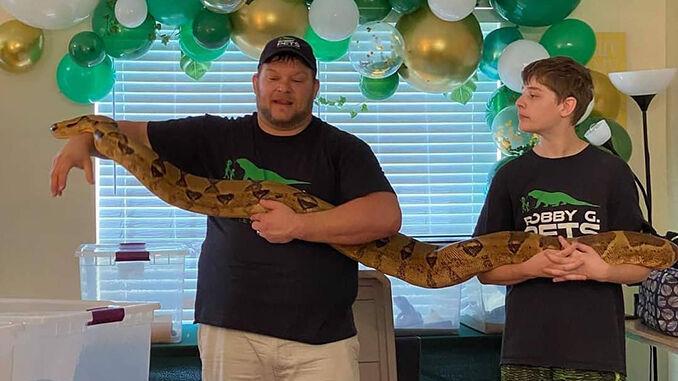 My husband is a lifelong fan of reptiles. When I met him 16 years ago, he had two snakes and I was deathly afraid of them, but after he taught me about them and how to handle them, I began to warm up. Now, we have over 35 snakes, lizards and arachnids!
This is definitely my husband's passion and he takes care of them all. Feeding is dependent on that specific reptile. Snakes only eat once a week and lizards eat about every other day. Matt goes down to the "Reptile Lair" in our basement daily, making sure everyone is doing well, has water, and sufficient heat, and clean cages.
You wouldn't think so, but each one of our reptiles has their own personality. Our lizards do have more "person" affection than our snakes, but all the animals know when Matt is around. They perk up and just watch him. T-Rex, our Black and White Argentine Tegu, has the biggest personality of them all. He LOVES people interaction and walking on a leash.
Lizards have a life span like a dog, 10 – 15 years; snakes have a longer lifespan of 25-30 years. Snakes are in the family for a long period of time, they can follow your young child into college!