The canine professionals and their handlers of the Fauquier County Sheriff's Office
By Lindsay Hogeboom
Deputy James Arrington describes his work partner in one word: "Goofy."
While many co-workers may take offense to that label, Arrington's K-9 comrade seems to wear it proudly, simply happy to spend time with his handler and get to work.
Arrington and his human colleague, Sergeant Brian Colbert — both Northern Virginia natives currently residing in the Warrenton area — have been with the Fauquier County Sheriff's Office for more than a decade. Arrington has been a K-9 handler since 2013, and throughout that time has had two K-9 partners: Ace, and his current dog, Bane. He says that having grown up exposed to the field, he knew from the start that being a K-9 handler was the job for him. "My dad was a K-9 handler for 30-something years for Manassas City, and we own a company that trains dogs in the area," he says.
As for Colbert, he explains that Arrington was part of the reason he became a K-9 handler. "When I worked in the jail, I'd go out and ride-along with guys, and most of the time it was with the K-9 handlers," he says. "And then [Arrington] was actually my roommate for a little while, so I got kind of acquainted with the K-9 side of law enforcement."
Fast forward to today, and Colbert says he has loved working alongside his four-legged partner, Hank. "It's the best job in law enforcement," he says. Arrington agrees: "We get to do all the fun stuff."
All in a Day's Work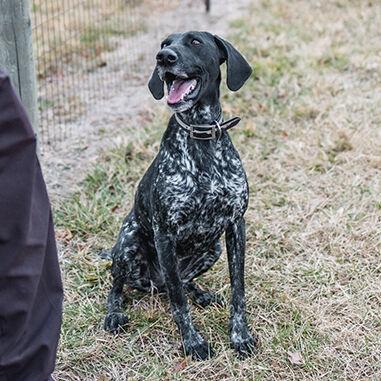 In all, the department has five K-9 teams that are each trained in specific tasks. Bane and Hank, along with their colleague, Duco, are Belgian Malinois, Malinois-Shepherd mix, and Dutch Shepherd, respectively, and are each trained to do tracking, building searches, and criminal apprehension. "Ladee is a German Shorthaired Pointer, and then we have Katie, who is a Bloodhound," says Arrington. "The Bloodhound only does tracking — she'll track missing elderly people and children. She can also track criminals. The bomb dog, Ladee, does explosives, handguns, and rifles, and finds casings and stuff like that. She can [also] do the black powder explosives."
For these teams, a typical workday includes anything from training to exercising the dogs to handling calls. "It starts with us loading up for work, and [the dogs] are raring to go," says Arrington. "They love going to work. You open that kennel door and they run right to the cars."
Once the dogs are strapped into their vests and loaded into the cars, "we come in, go to our roll call and then we usually go out — some days we'll do training. We find some time to throw the ball and let them out, and handle calls from there," explains Arrington.
"We don't just train here," adds Colbert. "We'll go to other places and get different atmospheres." Arrington explains that a change in scenery and training with other local departments is beneficial for both the dogs and their handlers. "It's good to let other people see how your dogs work, because…they might know something we don't know and we can incorporate that into training our dogs," he says.
Man's Best Friend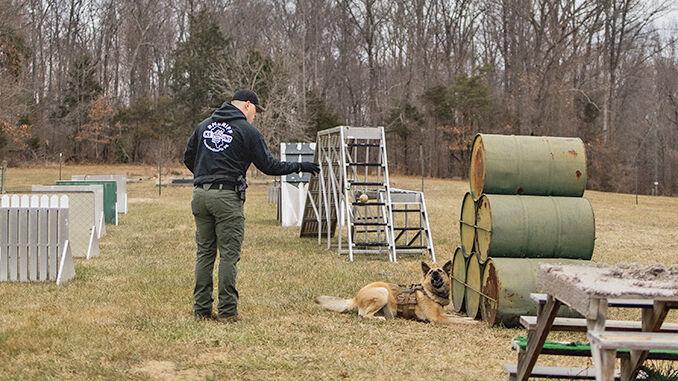 "When we're at work, [Hank] is my best friend," says Colbert. "He's right there behind us, riding in the car. Sometimes we'll open the divider up and he'll be able to come up."
The partnerships don't end when the teams clock out. After work, the K-9 companions head home with their handlers. However, "Every handler treats their dog differently when they're at home. There's handlers out there that let [their dog] in the house, and they stay in the house with them and sleep in the bed with them," Colbert says. "My old dog was like that," says Arrington, "but Bane is too rambunctious. I let him in my house one time, and he was standing on my kitchen table."
Both Bane and Hank have their own up-scale outdoor living spaces, complete with heated and cooled kennels. "[But] Hank never goes into his kennel," says Colbert. "I have a quarter-acre fenced in for him, so the only time he's in his kennel is when he's eating or drinking. And then he's got two dog houses out front, so he walks to the house, stays there and lays and waits for you to walk out every morning. Every time I come out, he's jumping at the fence."
Both at work and at home, each dogs' distinct personality shines. Arrington says that Bane is "like a big baby. I call him the bad little kid half of the time because he knows how to push your buttons like there's no tomorrow…. But he's a good boy." He grins as he says, "I have a little sticker in my car, it's a Malinois on a wrecking ball, because that's what he is. But he's also very social. He is probably one of the most social dogs we have."
"[Hank is] the old man," says Colbert. "He's very chill until it comes time to work, and then he's a loudmouth."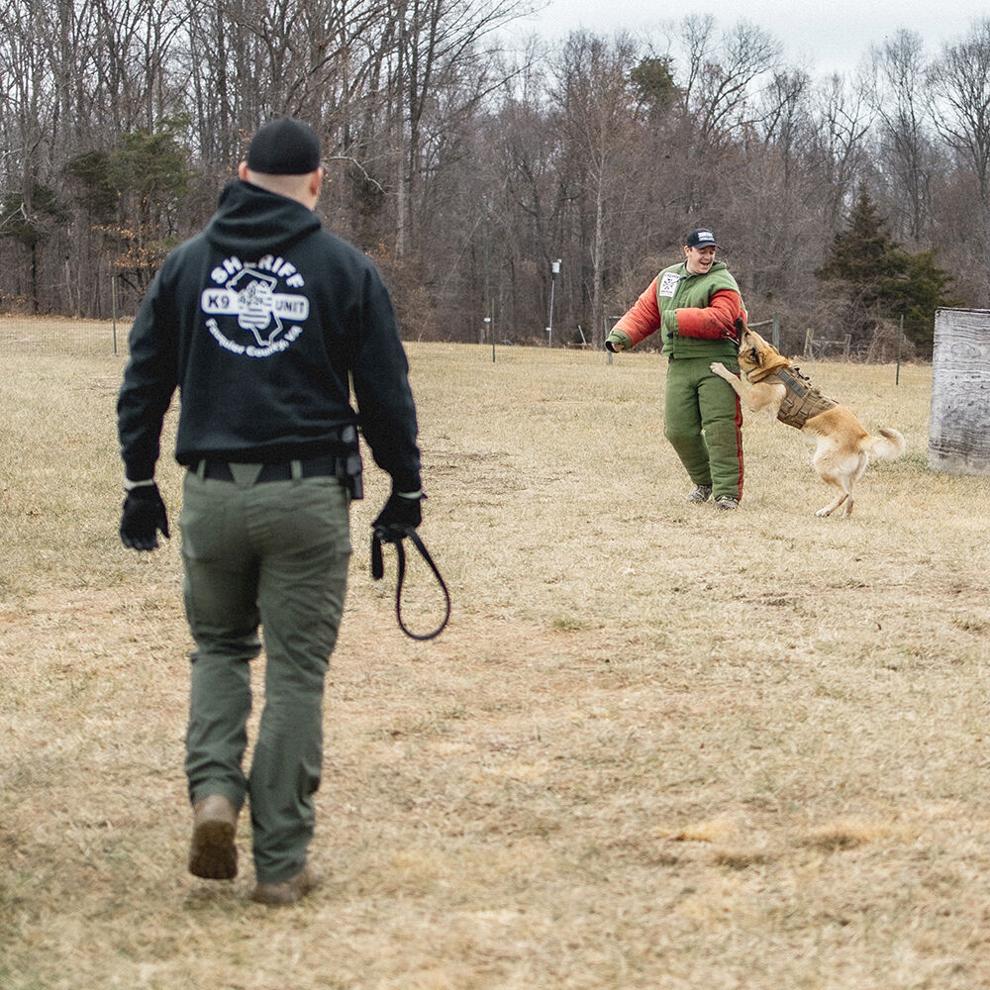 Despite the dogs' high-drive and high-energy nature that fuels their work ethic, both Arrington and Colbert say that their K-9s favorite thing to do during their time off is sleep. When they aren't sleeping, they can likely be found playing with their favorite toys or their other canine friends. "I have another dog that is my pet that [Hank] plays with — his name is 'Chief', a Blue Heeler mixed with German Shorthaired Pointer," says Colbert. "They get along, they play together, but [Hank] definitely gets to the point where he's like, 'I don't want to do it anymore,' and just goes and lays in his doghouse."
"I have a Lab named Luna who will take [Bane] out at the legs," says Arrington. "Bane's too busy looking for his ball…they're playful. At home, you probably wouldn't know they're police dogs. The neighbors all know who Bane is and they love him too."
Life After Work
The typical career of a working dog is about eight years. "Hank's getting ready to retire," Colbert says, and will be adopted by Colbert as a pet upon his retirement. "At the end of their career, we're able to keep our dogs — we just have to purchase them from the county for a dollar."
"We have a choice — we don't have to [adopt them]," says Arrington, "but I've never really met a handler who hasn't. They're like your family."