Learning life skills in her garden
Story and photos by Lindsay Hogeboom
When you picture an entrepreneur, what do you see? For most, the first thing that comes to mind is probably not a kid. However, for Lillian White — daughter of Abundant Acres Farm owners Dustin and Brittany White — her business began at nine years old when she discovered her penchant for gardening. Now, at 11 years old, Lillian brings color and joy to Warrenton Farmers Market patrons each week with beautiful flower arrangements from her home-grown garden, sold at her market stand, Lill's Flower Shop.
A Day on the Job
When asked how a typical morning on the job starts, Lillian exclaims, "Hot!" — a sentiment anyone who works outside throughout the summer season can relate to. She begins her day at 6 a.m. by doing her morning chores, including feeding the animals — chickens, rabbits, barn cats and a goat — and letting them out into the field, collecting and washing eggs, and weeding and cutting dead flowers in her garden to promote fresh growth. Lillian says, "If it's Friday, then usually in the afternoon I pick the flowers, and my cat is usually there. If I forget to [do it in the afternoon] and it gets dark, then he'll come out there with me because he knows I'm afraid of the dark." She goes on to explain how the picking process works: "I use clippers and I cut [the flowers] at an angle because then they get more water. So, I do that and then place them in a bucket."
Once the flowers have been cut and placed in buckets of water, Lillian carries them up the hill from her front yard to her house, where she arranges them into bouquets or buckets of single stems. On Saturday mornings, she brings them to the Warrenton Farmers Market to be sold at $15 per bouquet or $1 per single stem.
Getting to Know the Florist
Lillian says, "My favorite flowers are Rudbeckia and Celosia. Celosia is the one that looks really fluffy, almost like brains. The Rudbeckia are the yellow flowers." She cites the scientific names and describes the plants with confidence. "Whenever I first started out, I tried to remember all the names, so I had to keep saying the names in my head," she says. In addition to her favorites, another flower of note in Lillian's garden is Cosmos, a pink, daisy-like annual flower. "I think I'm going to have to pull those up later…they last about half [as long as] the other flowers do," she explains. "The other ones, they seem to grow all season."
Lillian reveals that her favorite part of running her business is being out in the garden because she's immersed in the beauty of nature. "I actually have found hummingbirds and hummingbird moths," she says excitedly. "I also see butterflies, bees, and I even have a baby bumblebee that goes around my flowers." Lillian also enjoys getting to know her customers and other vendors that frequent the farmers market. "[I like] getting to meet new people, and some of them turn into returning customers," she says.
Lillian's mother, Brittany, states that she often encourages Lillian to stand out in front of her booth to draw people in by making conversation, and that the flower stand is truly run by Lillian with minimal oversight from her parents. "People who [come to Lillian's booth] will look to me, and I'm like, 'It's not mine, it's hers.' People will ask, 'Can I pay with a card?' and we're like, 'Yeah, but then we're handing her cash.' It does not go to any of our stuff — that's hers."
Lillian explains that most of her income goes to her savings, while she gets a small portion to be spent however she wants. Currently, she is saving up for a new tablet, because while she does already have one, "it's about as old as me, and I cracked the screen a little bit," she says. "It's still alive right now, but I'm trying to save up to get me a new one so I can still talk to my friends."
 Off the Clock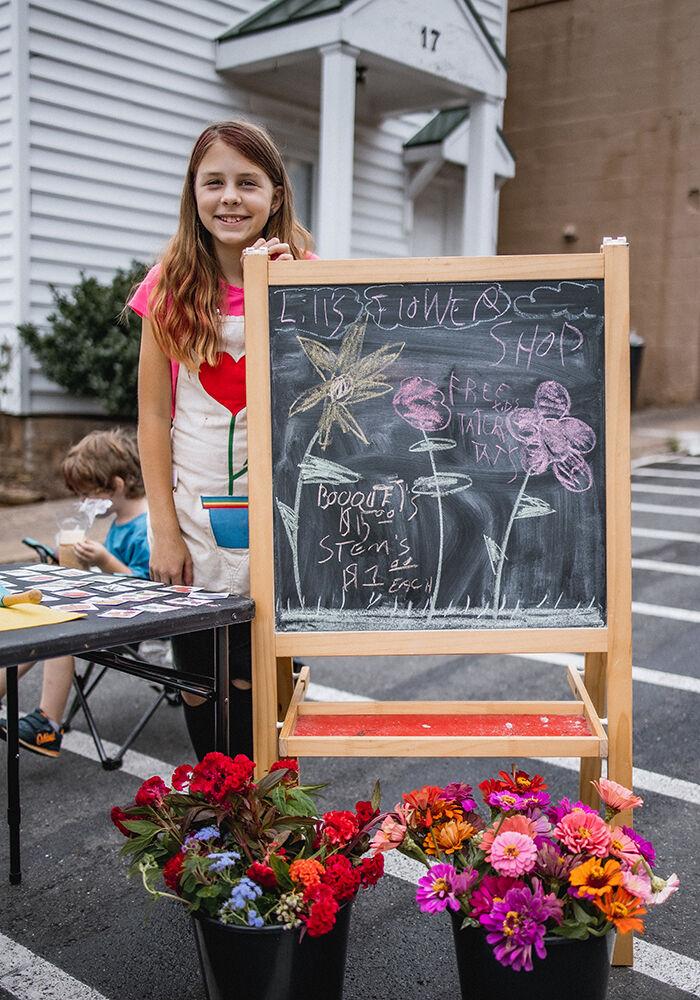 When Lillian's not playing outside with friends, she can be found painting with watercolors, playing video games or hanging out with her pets — Pica and Junior, her cats, or Oreo and Cream, her rabbits. And, Lillian says her favorite hobby, baking, may one day become her new business venture.
Looking Ahead
"What I want to do in the future is actually to have a bakery," Lillian says. "I already have a name for my bakery: The Sweet Bakery." Brittany says that one of the benefits of Lillian running the floral business is that she is learning skills that will be transferable if she ever does make her dream of owning a bakery a reality. "We tell her that if she works hard now and saves up her money, then she can easily switch."
Brittany also says that many of the skills Lillian is learning will be useful no matter the direction her future takes. She explains, "I think some of it is patience — the fact that she's having to get up and put the bouquets together. And you can't slack, because if you do, you're not going to have your stuff done and you're not going to get anything sold. It's persistence." To that, Lillian rebuts with a grin, "I still don't have that much patience."
Only time will tell what pursuits lie in Lillian's future, and it's no doubt she will be well prepared thanks to her current endeavors. In the meantime, you can find her selling beautiful bouquets at Lill's Flower Shop.