Often, people launch into their adult life with a career doing something they love – until reality hits and they choose to switch gears. That was the path for Warrenton resident Amy Zwirko, who has lived with her husband Andy and daughter Anna in the county for 20 years, but the surprise is that she has unexpectedly circled back and now enjoys a career in art she never thought she would have.
"I was a truly starving artist!" Amy laughed. "I've been painting since childhood, and earned a degree in Fine Art from Old Dominion University. Then I was barely surviving working at an art gallery in Norfolk. I have two uncles that are dentists and a cousin who is a hygienist, and they talked me into getting my dental hygiene license at NOVA Community College in Springfield. I've been working in that field now for 30 years, in Manassas and also filling in at offices in Warrenton as needed." When Amy turned toward art again about seven years ago, her sister introduced her to the now-popular "sip and paint" concept. "I thought she was crazy, but I experimented with a group of friends, then another group, then a church group," she said. In 2017, Creative Crafts with Amy was born, and now she features a full slate of mobile arts and crafts classes.  "I am almost full-time with art now – going back to my first love after a full-time professional job!" 
Creative Crafts with Amy brings the joy of art to the client's location. Everything needed is supplied, from the canvases and easels, to the paint brushes, paint, and even rinse water. The group chooses a design from Amy's library, and she walks them through the process of painting it step by step. "We use acrylic paints because they are easy to use and dry quickly," she said. "We start with the basic shape, but I provide a lot of colors of paint and they have the freedom to customize their own work, perhaps change the type or color of flowers, for example." Most of the offered projects are on canvas, but other options are also available, such as  painting on wine glasses or mugs.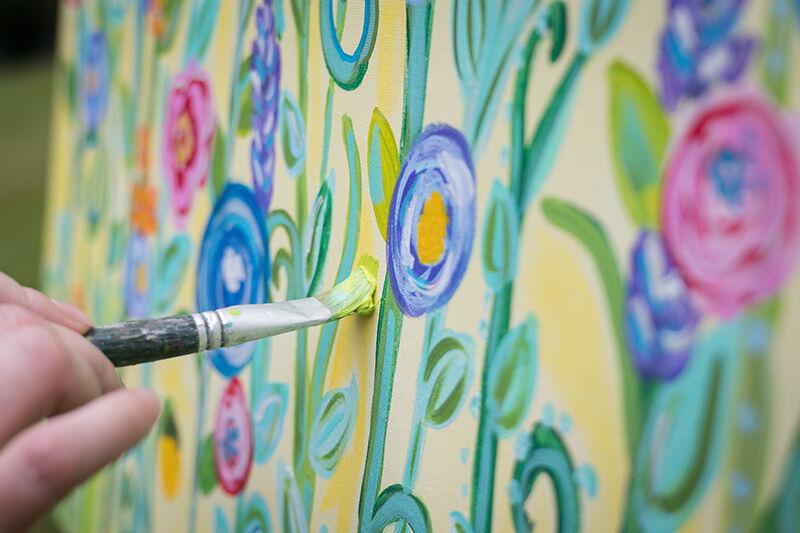 Initially a large part of her business was groups at wineries and restaurants. She explained, "When COVID hit, I wasn't able to do that, so I pivoted and started working with local high schools and middle schools doing fundraisers in addition to art classes through Parks and Rec. For instance, Fauquier High School did a paint night fundraiser for band and orchestra, and the results were amazing! I bring the supplies, we set up in the cafeteria and we work on one picture that I help everyone paint. They usually have a bake sale or pizzas – we make a night of it!" She works with Kettle Run High School as well, with the schools keeping $10 per painter to fund their targeted projects.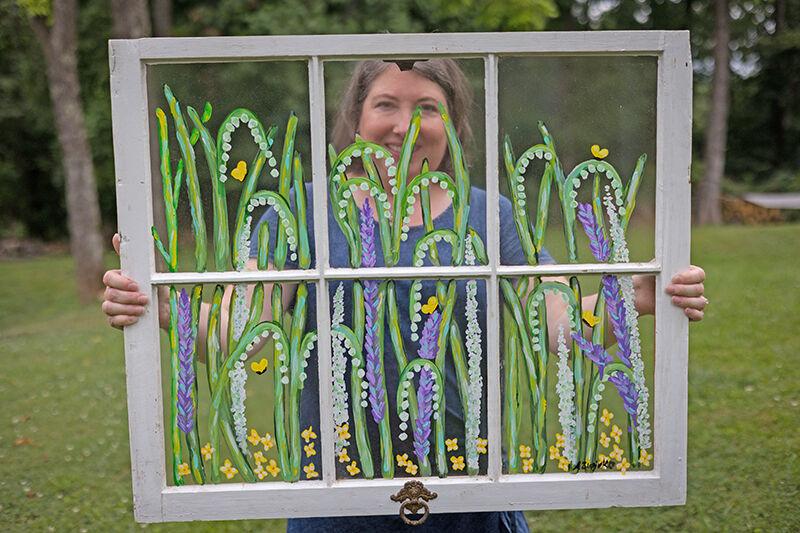 Amy offers a popular paint class for children's birthday parties as well. "I bring my daughter Anna, who is a senior at Fauquier High School, as my art assistant and we use a smaller 10 x 10 canvas. We keep the class length to between 30 and 60 minutes," she added. "We use an easy design, and the kids and parents love it!"
In the early days, one of Amy's birthday party gigs turned out to be quite memorable. "I was leading a paint class at a large birthday party, and we had maybe 20 kids outside --  ten boys and ten girls," she said. "The girls wanted to paint unicorns, and the boys wanted to paint sharks. My daughter took the boys, and as the painting progressed, she came running over, saying 'Mom I need help!' Turns out the boys were painting blood and body parts coming out of the sharks' mouths. I have learned that sometimes, you just have to let it go."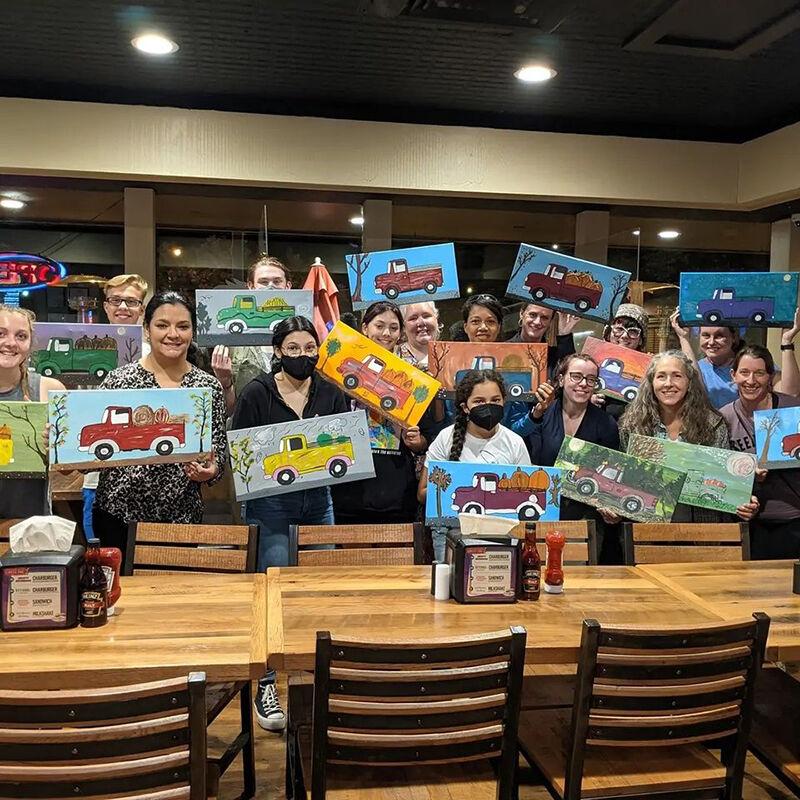 "At another party, we were painting old Ford pickup trucks with pumpkins for a pretty Fall scene. The parents were painting perfect trucks, just lovely, but two boys turned their paintings into monster trucks! Their parents were mortified but it was great – we give the kids paint and let them go – they have the best time!"
Amy's work with local seniors is just as rewarding, and she really enjoys the classes she holds at the Rappahannock Rapidan senior centers. "There are five of them I paint with every other month – we do a paint class and rotate through the centers," she said. "The best part is sitting with the seniors – they tell the funniest, most interesting stories, about kids, cats, anything -- absolutely hilarious!"
Creative Crafts with Amy is not just about paint parties; she offers a wide range of craft options, too. "I have classes through the summer and more in the fall through Fauquier Parks and Recreation," she said. "My silk scarf painting class was very successful, and I offer a giant canvas painting session working strictly with paint pallet knives – no brushes! I may revisit the mosaic class I offered last winter as well, plus wreath making toward the holidays." Working with vinyl floor cloth is extremely popular, too; participants paint them and then seal with a polyurethane for a lasting look.
She is surprised, and pleased, at how fast the business has taken off, and she thinks perhaps people want to learn a new skill and get together with people again post-pandemic.
Deep down, what Amy loves best is connecting with her customers and teaching the basics to those with little experience. "I love talking to my customers; I love talking!" she laughed. "I love introducing them to paint and painting techniques -- simple things like mixing colors and types of brushes. I especially love working people who have never painted before, showing them it's not as intimidating as it seems.  Yes, you can paint! There are a lot of timid people when it comes to art and I want to prove to them they can do it."
This article originally appeared in the August 2022 issue of Warrenton Lifestyle Magazine. Read here.