Every day is Earth Day at the solar-power microbrewery Old Bust Head, where sustainability is always on tap.
Located among the rolling rural landscape and rich history of Vint Hill, Old Bust Head is on a mission. The owners say they're looking to preserve parts of the past while making the way for a bright, sustainable future.
Since opening in 2014, Old Bust Head has been committed to brewing great beer — and root beer — bringing people together, giving back and helping the health of the environment.
"We are constantly growing our environmental efforts," said Julie Broaddus, Old Bust Head's owner-operator. "Sustainability is a journey, so as our business grows and changes, we grow and change our sustainability efforts."
Starting with the building itself, Old Bust Head stays true to the "three Rs" — reduce, reuse and recycle. Once a 1950s warehouse, the historic structure now houses the taproom and production facilities.
Atop the building, a solar array was installed and went operational in 2020, generating 50% of the electricity Old Bust Head uses to brew their beer and offering a number of additional environmental benefits.
"We are definitely getting a good return on our solar array," Broaddus said. "Reducing costs, reducing peak loads for our power company, reducing the need for fossil fuels."
According to Old Bust Head owners, their solar array is the largest of any brewery in Virginia and the five-state area. In the future, Broaddus says Old Bust Head would like to expand the solar array further to other rooftop sections to increase the power they generate from the solar array.
"We had made a personal commitment in honor of our daughter that we would allocate funds each year for the environment," Broaddus said. 
Her daughter, Finley, an avid environmentalist, died from cancer in 2014 at age 18.
The solar array helps to honor Broaddus' commitment and is one of many sustainability endeavors Old Bust Head continues to pursue.
And Old Bust Head does more than just implement, they also educate. Team training sessions review environmental initiatives, including the how and why, which has helped to inform some of the details for staff and patrons. A display in the taproom showcases the solar array uses, output and benefits.
Old Bust Head team members attend meetings and conferences to share their knowledge and to learn from others. They are always looking to do more, and when it comes to the environment and the community, all options are on the table. No initiative is too big or too small, the owners say.
When Old Bust Head learned last year that local single-stream recycling providers were no longer picking up glass, they sprang into action. They updated their own operations and created a recycling option for the entire community, magnifying the positive impact.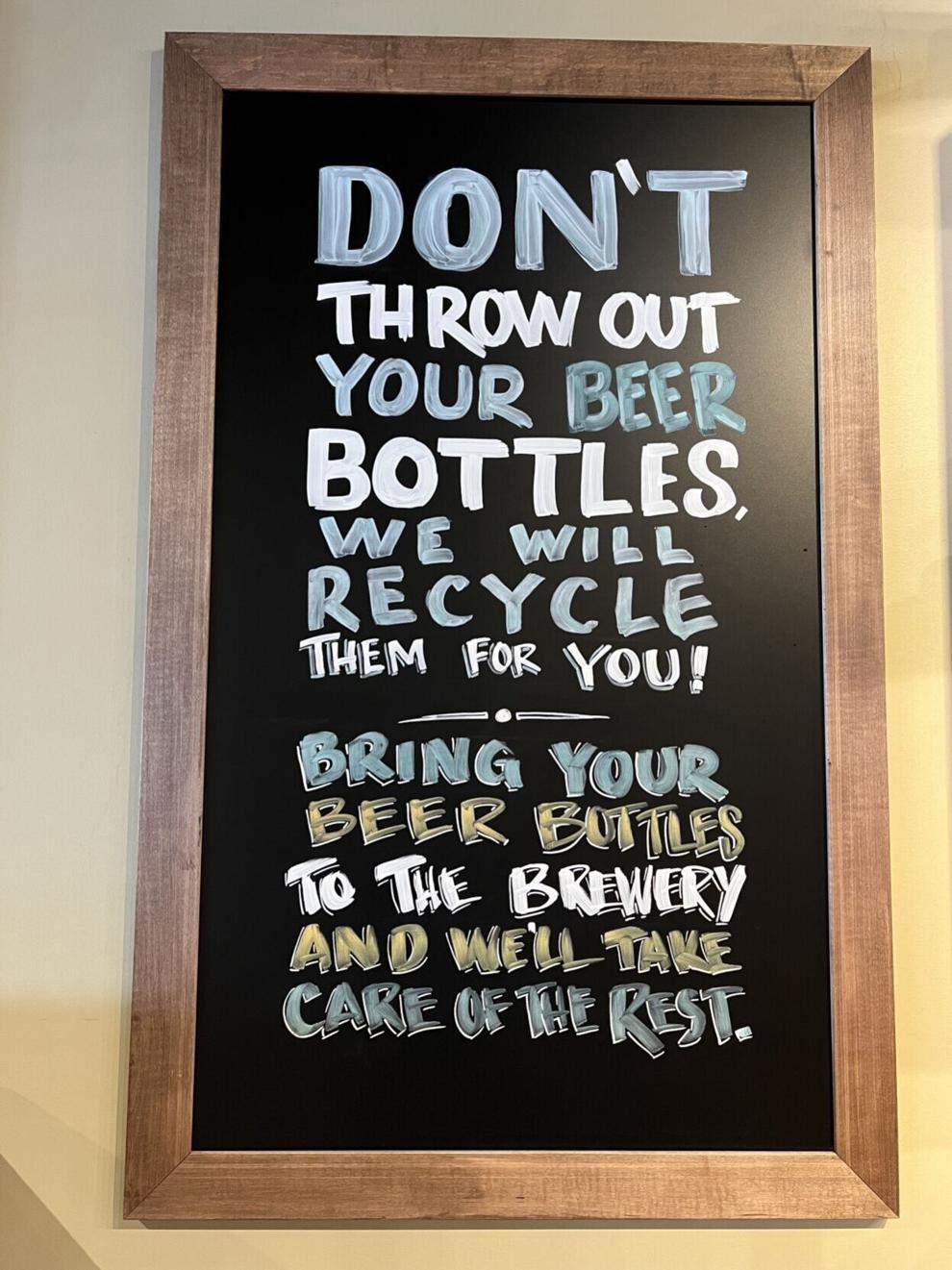 Customers can return their bottles to the brewery, and they make weekly trips to the landfill where, according to Old Bust Head, the glass is crushed into sand and used to conserve other resources in local road projects.
Old Bust Head also gives new meaning and real purpose to the term "beer garden," with native plants on site and a QR code that creates a fun and interactive experience when identifying the species of plants, birds and insects they support.
Additional Old Bust Head environmental initiatives include side streaming, geothermal and CO2 recapturing.
Side streaming, as the name suggests, separates waste — spent grain, yeast and unfermentable proteins — into different "streams" rather than sending everything down the drain. The high-quality spent grain is picked up by local farmers to feed their cattle (happy cows!). And the yeast and unfermentable proteins left in a tank after fermentation are disposed of properly, helping to protect waterways and reduce the strain on local treatment plants. Always looking to the future, Old Bust Head hopes to one day find a path to turn the yeast and unfermentable proteins, also known as trub, into energy.
Old Bust Head's geothermal system of 18 500-foot geothermal wells and 12 geothermal heat pumps helps to save energy and heat and cool the taproom. According to Old Bust Head, "geothermal cooling is about 70% more efficient than regular air conditioning, and geothermal heating is about 50% more efficient than conventional heating systems."
Through CO2 recapture, Old Bust Head is able to "capture the carbon dioxide (CO2) produced by yeast during fermentation, filter it, liquify it, and reuse it in other stages of the brewing process with a high demand for C02," according to the brewery. This process, which was installed last year, is better for the beer and the environment and is "one of the first in the country for a brewery of our size," Boaddus said.
"We have just joined a TREX program to recycle single-use plastic film and shrink wrap to be turned into decking materials," Broaddus said, "We also foresee additional efforts to constantly reduce the impact of our effluent on our wastewater treatment plant."
While all of this is going on behind the scenes, visitors are experiencing a welcoming and visually striking place to enjoy a local brew.
There is always something to see and do at Old Bust Head, every week and weekend, including the Spring Market on Saturday, May 13. So stop by for a beer release, live music, food trucks, vendors and, of course, baby goats!