The Warrenton Town Council has unanimously approved a special-use permit application that will allow Oak View National Bank in Warrenton to build a 7,795-square-foot, two-lane drive-thru for a new bank it plans to build at the intersection of Waterloo and Garrett Streets.
The applicant, DHR Engineers PLC, and owner, Oak View, applied for the special-use permit on June 9, and the town Planning Commission voted 4-1 on Sept. 20 to recommend the council approve the application.
A bank is allowable use-by-right, according to the town zoning ordinance. However, a drive-thru requires a special-use permit. Currently there is an Oak View branch in Warrenton located on Broadview Avenue, between the Subway and Sherwin-Williams Paint Store, that the company plans to close and relocate behind the Waterloo Station Shopping Center.
During the commission's September meeting, several commissioners, including Ali Zarabi, Gerald Johnston and Steve Ainsworth, raised concerns about the traffic congestion on Waterloo Street, light pollution, grading issues and stormwater runoff.
The drive-thru meets the town's zoning requirements, including lighting and stormwater management and the 2040 Comprehensive Plan, according to a staff report.
During the council meeting Tuesday, Michael Ewing, CEO of Oak View, tried to assuage council members that his company plans to widen Garrett Street – creating two lanes of traffic – and build a pedestrian sidewalk that he claims would ease traffic congestion and walkability around the development. Ewing also noted that Oak View is working with the Virginia Department of Transportation to merge the bank's entrance with the shopping center entrance to alleviate congestion.
"There are some existing traffic issues in that area," he said. "I think we were doing our part to address those as it affects our property."
According to Oak View's statement of justification, the company said it estimates the new drive-thru would experience approximately 783 vehicle trips per day based on the traffic flow at its existing location on Broadview.
Virginia Palmer-Fuechsel, a Warrenton resident who lives on Waterloo Street, spoke during the public hearing Tuesday and told council members that while she is not against the bank being built, she is worried the traffic calming measures won't alleviate potential gridlock.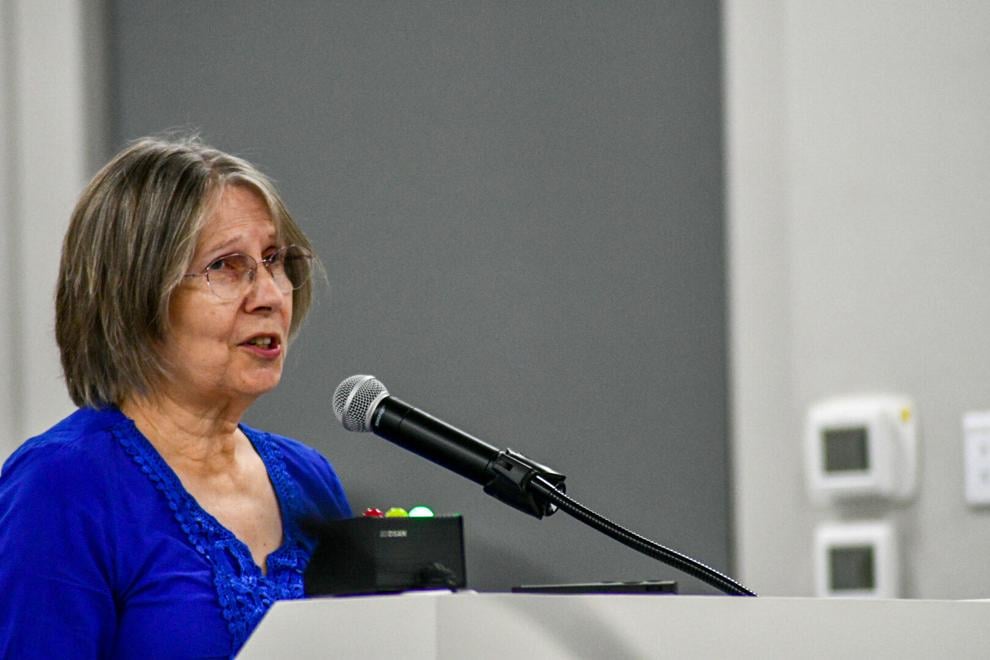 "The projection was hundreds of cars coming a day through a drive-thru," she said. "The biggest bottleneck is at Garrett Street. They've proposed that everyone come in through the shopping center and down Garrett Street. If they turn left, they're going to be entering Waterloo Street, which is already very busy. It will not affect the school traffic in the morning, but that will affect school traffic in the afternoon, both foot traffic in buses and cars."
Newly elected Ward 5 council member Jay Heroux said during the meeting he was also worried about traffic congestion at the intersection and noted the council should look into additional improvements outside of those suggested by Oak View.
"I fully support Oak View Bank in this location. The only concern I have ... is that the lower end of Waterloo Street is a very busy place," he said. "There's also a new, I think, housing development that may be planned in that area as well ... there's, I think, one family or two families that cross the street to get to the bus."
Agreeing with Heroux, Mayor Carter Nevill said he plans to advocate for taking "incremental steps" to address the traffic issue.
"Step by step, we are addressing and making improvements where in the past that had not been as ideal," he said. "This corrects it and does put us on the path towards increasing safety at that end of the street. I look forward to staff and council advocating for continued improvements to that intersection."
Ewing told FauquierNow he anticipates the facility will open at the end of 2023 or early 2024 and have approximately 26 branch employees. 
The proposed days and hours of operation would be Monday-Thursday from 8:30 a.m. to 4 p.m., Friday from 8:30 a.m. to 6 p.m. and Saturday from 9 a.m. to noon.