Deputy Superintendent Major Warner, a veteran educator and lifelong resident of Fauquier, will succeed David Jeck as the new Superintendent of Fauquier County Public Schools.
After 10 years at the helm of the school division, Jeck announced last month he planned to officially step down July 1. Jeck said he would assume the role of special projects manager through June 30, 2024.
The School Board appointed Warner, 54, to superintendent during a special meeting Wednesday morning. Warner brings nearly three decades of experience in education to his new position starting July 1.
"It is an honor, and certainly, it's one that I'm humbled by, and I won't take lightly," Warner said during the School Board meeting.
Born and raised in the Markham area of Fauquier County, Warner attended Northwestern Elementary (now Thompson), Coleman Elementary, Marshall Junior High and Fauquier High School.
After high school, Warner attended Emory & Henry College, earning a bachelor of arts in economics and business. Following graduation, he spent two years as an admissions counselor at Emory & Henry and then went on to complete a two-year program at Tennessee Technological University.
After completing some coursework through the University of Virginia, Warner later earned his postgraduate licensure in administration and supervision.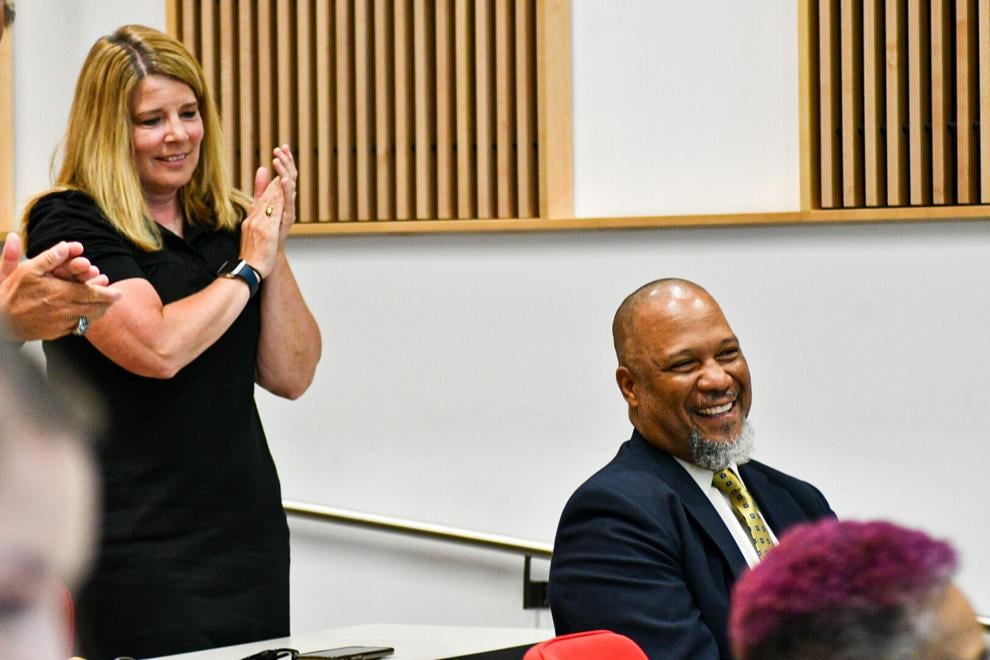 In 2021, Warner earned his doctor of education degree in educational leadership from Virginia Commonwealth University. Additionally, Warner holds certifications in marketing education, middle school counseling, secondary counseling and division superintendent.
Warner began his career as a school counselor in Loudoun County Public Schools and went on to teach at Liberty High School from 1996-2000. He also spent two years as assistant principal at Park View High School in Loudoun.
Following his time in Loudoun, Warner served as an assistant principal at Battlefield High School in Prince William County Public Schools for three years before returning to Fauquier as the principal of Kettle Run High School, where he remained for 10 years before being appointed deputy superintendent of the Fauquier school division.
Warner attributes his deep-rooted connection to Fauquier public schools to the foundational education he himself received as a student, noting his teachers and coaches were what inspired him to become an educator.
"I had teachers and coaches who never compromised in keeping me on the right path," Warner said in a news release. "I had some really, really good teachers through elementary school and junior high and at Fauquier; some of my teachers saw something in me that I didn't see at that time. I grew up, by today's standards, in poverty, but there was really a sense that, 'We're not going to let this kid fail.' …There was a real village mentality around me. The people around me saw something in me long before I ever saw something in myself."
During Wednesday's meeting, Warner said that starting in July he would begin traveling around different schools and hosting forums to create a dialogue between families and his administration. Warner said dates for the forums would be posted at later date.
"We are your partners," Warner said. "Sometimes partnerships have tension. There is a place for discourse in this equation, but we will always be your partners, and I stand to reassure you that we have children's best interests at heart. Your children are precious to us, and we will continue to make sure that their journey from kindergarten through 12th grade gives them every tool they need to be successful in life."
Warner's wife of 25 years, Lisa, has also dedicated her career to public education in Fauquier County Public Schools and is finishing her 29th year of teaching at Coleman Elementary School. Their son, Tré, a Kettle Run High School graduate, recently graduated from Coastal Carolina University, where he majored in marine conservation. In his spare time, Major Warner enjoys serving his community, playing golf and spending time with his friends and family.
Warner's new salary as superintendent will be $235,000. Jeck's was $211,352.58.
Warner's previous salary as deputy superintendent was $162,958.16.
School Board Chair Stephanie Litter-Reber said in a press release the board is "extremely pleased and excited for the selection of Dr. Major Warner as our next Superintendent of Fauquier County Public Schools."
She went on to say that "selecting a superintendent is the most important decision the School Board makes, and we know that we have selected a visionary, inclusive, and results-driven leader who shares our values and expectations of openness and transparency, academic excellence, and school safety."