With the midterm elections closing in, Gov. Glenn Youngkin and Lt. Gov. Winsome Earle-Sears headlined a rally Thursday at Eva Walker Park in Warrenton for Virginia's 10th Congressional District Republican candidate, Hung Cao, and encouraged voters to show up to the polls on Nov. 8. 
Cao, a retired Navy Capt., is running against incumbent Rep. Jennifer Wexton.
"Here we are right down the stretch this last week. This is when the moves are happening. This is when Jennifer Wexton is most nervous," Youngkin told the crowd hundreds of supporters.
Cao mainly focused on the economy and inflation, blaming Democrats, including Wexton, for things like rising housing prices, something that has been a common theme during his campaign.
"If you bought a house today, you gotta pay twice the amount that you did last year," he said. "That's all because of all this stuff that the Biden administration did that Jennifer Wexton signed on."
Cao also accused Wexton of committing government overreach by "criminalizing parents" who "don't affirm their child's gender."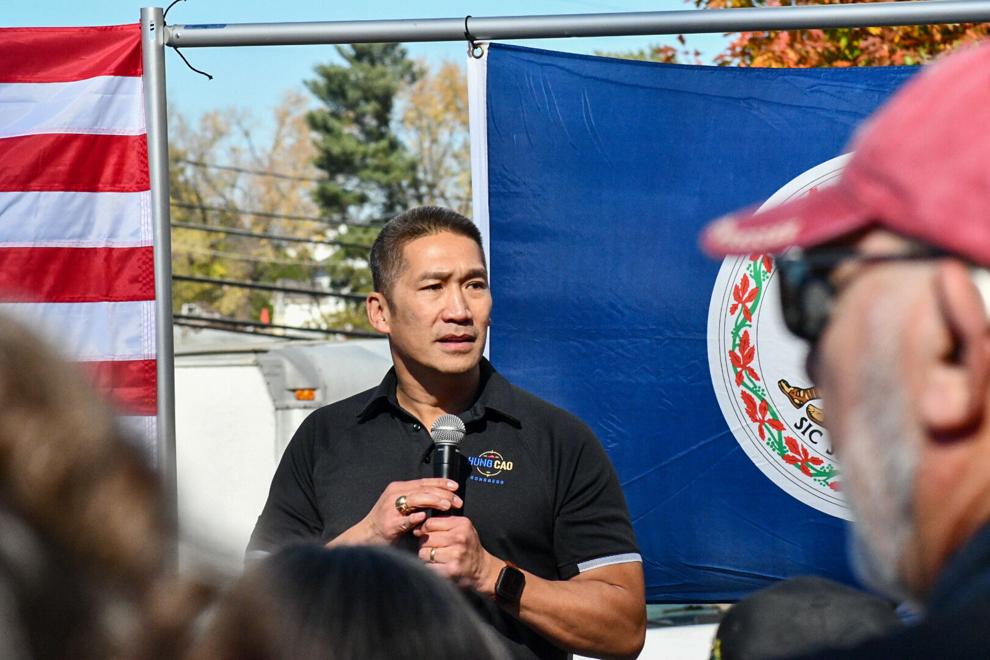 "That's not what America is all about," Cao said. "Ladies and gentlemen, I came from a communist country. Everything that they're doing is what communists do. They take your children away, and they turn them against you. They take away your wealth, they take away everything it means to be an American, and I won't stand for it."
Cao is referring to Virginia House Bill 580, which was first introduced in the state legislature and would expand the definition of "child abuse," making it unlawful to mentally injure on the basis of a child's gender identity. It was first introduced in 2020 by Del. Elizabeth Guzman – not Wexton – who represents Prince William and Fauquier counties. Guzman recently received backlash in October for saying she planned to reintroduce the bill during the next regular session. 
The local parental rights group, Moms for Liberty, also attended the rally for Cao, waving a large banner. The group previously attempted to have 17 books removed from school libraries but withdrew the request after the School Boards announced it would revise its policies.
Youngkin contrasted Cao with his Democratic counterpart, painting him as a family man "who understands what it means to serve."
"What America represents is where freedom and liberty come together to lift up everyone, and that is why Hung decided to put everything down to the side and go work for you," Youngkin said.
"The other side, the progressive liberals have been trying to take away our freedom and liberty and we know this...we're not letting this happen," he added.
Wexton is seeking her third term in Congress, having knocked off previous incumbent Barbara Comstock by 12 percentage points in 2018 and Republican challenger Aliscia Andrews by a similar margin in 2020. This time around, however, Wexton will be running in a less comfortably Democratic district after congressional boundaries were redrawn by an order from the Supreme Court of Virginia late last year. 
The new boundaries cut off the western and eastern reaches of the previous district, moving areas like Winchester and northern Fairfax County, a populous Democratic stronghold, to other districts and adding more rural – and Republican – parts of Fauquier and Rappahannock counties to the 10th. As currently constituted, the district's precincts voted for Democratic gubernatorial candidate Terry McAuliffe by a slim margin over Gov. Glenn Youngkin last year. 
The current district still includes a small portion of Fairfax County, as well as the western portion of Prince William County, Manassas and Manassas Park.  
In Congress, Wexton has sponsored legislation that would offer grants for police departments with fewer than 200 officers, make monkeypox testing free, expand veterans disability compensation and ban assault weapons. She supported the bipartisan infrastructure agreement, COVID stimulus and the recent Inflation Reduction Act, which aims to reduce the federal deficit, invest in renewable energy and lower prescription drug costs for Medicare beneficiaries. 
Unlike Wexton, who served five years in the state Senate before running for Congress, Cao is a political newcomer. Born in Vietnam, his family came to the U.S. when he was 4. According to a National Republican Congressional Committee candidate bio, he then spent most of his youth in West Africa before returning to the U.S. in 1982. A graduate of Thomas Jefferson High School in Alexandria and the U.S. Naval Academy, Cao went on to spend more than 30 years in the Navy, including leading the Navy's dive school in Panama City, Fla. 
He beat over 10 other candidates for the Republican nomination in a firehouse primary in May. 
Wexton has tried to paint Cao as too extreme in his conservative beliefs for the district. Cao has called himself "pro-life" and has said that he thinks abortion laws should be left up to the states, but at times has used extreme rhetoric on the issue, like saying that under Democratic Gov. Ralph Northam, abortion was legal up until the point of birth "or even post-bith," which was not true.
Cao, meanwhile, has criticized Wexton and President Biden for high inflation and interest rates. On education, he said he opposes what he calls "political agendas" and "indoctrination" in schools and said in a recent debate that he opposes allowing transgender athletes to compete in school sports. 
"Biological boys shouldn't be in girls' bathrooms, locker rooms or sports," he said. 
Cao has also criticized admissions policy changes for Thomas Jefferson High School aimed at admitting more Black and Hispanic students. Cao said those changes were "destroying the meritocracy" at the school. On the economy and health care, Cao has said he wants to let the free market work without government interference, calling for cutting taxes and spending. 
Wexton has held a fundraising advantage for much of the campaign, but Cao cut into her lead in the period ending Sept. 30, outraising Wexton over the previous three months. As of Oct. 19, Wexton had raised a total of $3.7 million to Cao's $2.8 million, according to the Virginia Public Access Project.