A six-bedroom, four-bathroom house on a 400-acre farm near Warrenton recently sold for $2,800,000. The Dunnottar Farm, named after a castle in Scotland, was part of a land grant dating back to 1739, according to Realtor.com. 
The original house was built around 1799 and features distant pastoral views of the land and the Blue Ridge range. The Great Run stream also flows the entire length of the farm. Cannonballs previously discovered on the property now cap the stone pillars that greet people entering the long farm lane to the main house.
The stone, Tudor-style house has stainless steel appliances, upgraded countertops, two fireplaces, three cottages, barns, a stable, a pond and 100 acres of woodland. 
The property went on the market on Feb. 8 for $3.5 million and sold 20 percent below the listing for $2.8 million on June 22.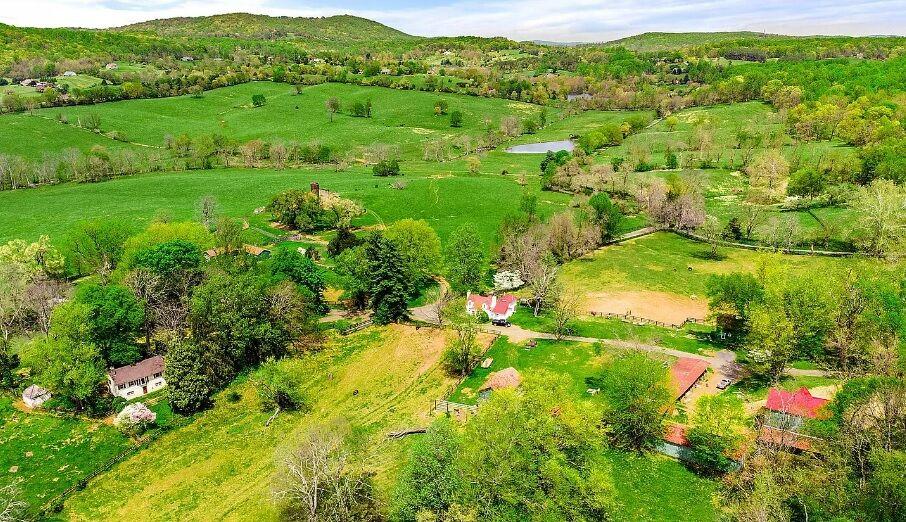 Will Thomas with TTR Sotheby's International Realty represented the buyer. Joe Allen Jr with Allen Real Estate represented the seller. 
The Fauquier County Circuit Court clerk's office recorded these real estate transfers June 22 -June 28:
Center District
-Gary E. Cubbage and Aimee Q. Allen-Cubbage to Kenneth and Jennifer Kernicky, Lot 58, Ridges of Warrenton Subdivision, 334 Singleton Circle, Warrenton, $727,500.
-Paul David, trustee, to Mitchell E. White and Natalie C. Shultz, 1.2 acres, Lot 2, Airy Lake Subdivision, 7305 Bayfield Lane, Warrenton, $925,000. 
-Meredith J. Hutchinson to John and Melissa Crocker, 0.2 acres, 386 Curtis Street, Warrenton, $448,000. 
-Ryan J. and Amber W. Stewart to Wanda L. Lilly, 0.9 acres, Lot 2, 356 Richards Dr., Warrenton, $675,000. 
-Emily M. White to Joshua A. and Rebecca D. Gegoski, Lot A-10, Hillsborough II Condominium Subdivision, 12 Falmouth Court, Warrenton, $310,000. 
-Kevin and Theresa M. Barty to Thomas M. and Nancy B. Freiling, Lot 15, Four Views Subdivision, 717 Bear Wallow Road, Warrenton, $555,000. 
-MZK Investment LLC, Mahmood A. Nasir as sole member, to Tyler and Jenette Justet, Lot 65, Highlands of Warrenton Subdivision, 474 Estate Ave., Warrenton, $565,000. 
Cedar Run District 
-Roger P. Schmidt, trustee, and others to Catherine and John P. Thal-Larsen, Lot 6, Kettle Run Forest Subdivision, 8096 Burwell Road, Catlett, $701,000. 
-Alice M. Sheets to Elise L. Hall, 2 acres, Lot 5-A, 9463 Rogues Road, Midland, $300,000. 
-Mara and John Desmedt to Kyle J. and Elizabeth K. Tracy, 3.4 acres, Lot 3, 4300 Ringwood Road, Nokesville, $750,000. 
-Ricky A. Williams to Pascual S. Saucedo and Alvaro S. Valdez, 2 acres, 10641 Brent Town Road, Catlett, $350,000. 
-Andy L. Wilfong II to Edward R. McMichael, 2 acres, Lot 1, 6229 Balls Mill Road, Midland, $475,000.
Lee District 
-Donald E. and Judith A. Reynard to Joshua T. Grizzard, 17.4 acres, 13667 Silver Hill Road, Sumerduck, $600,000. 
-Kyle R. and Samantha D. Boyer to Justin T. and Kelsey L. Wiser, 1 acre, Lot 1, 5216 Sumerduck Road, Sumerduck, $440,000. 
-Francie L. Rudy to Santos N. Carbajal, Lot 188, MeadowBrooke Sect. O Subdivision, 10836 Blake Lane, Bealeton, $370,000. 
Marshall District 
-Dunnottar Farm Inc., Trust, to Michael Brown, trustee, 400.6 acres, 7088 Dunnottar Lane, Warrenton, $2,800,000. 
-Eileen M. Yorke to Marilyn L. Murphy, 0.5 acres, Lot B, 1153 Poplar Row Lane, Upperville, $801,146.
-Benjamin and Christa Abbott to Gregory F. and Sarah F. Wells, 0.5 acres, 3692 Cherry Hill Road, Linden, $220,000. 
-Ian B. and Anna R. Burns to MNJ Real Estate LLC, 1 acre, Lot 6, Morgans Bluff Subdivision, 4322 Janes Lane, Marshall, $452,500. 
-Robert E. Moore Jr. and Kathleen L. Moore to Kevin E. and Diana Beagin, 5 acres, Lot , Hiddenbrook Subdivision, 10161 Hiddenbrook Hill Dr., Marshall, $500,000. 
Scott District 
-Jack M. Kotz to Gabriella Patierno, 1 acre, 5046 Bust Head Road, Broad Run, $600,000. 
-David R. Borek Jr. to Binod Sharma, Lot 38, Brookside Subdivision, 3983 Lake Ashby Court, $797,000. 
-Paula D. and Chris Perrin to Jaime R. Mondragon, 1.2 acres, Lot 109, Lake Whippoorwill Sec.t 2 Phase 5 Subdivision, 7174 North Crest Court, Warrenton, $629,618.