Halfway Farm, located on 107 acres in The Plains, recently sold for over $3.5 million. The residential enclave and farm buildings feature pastures, farmland and Turner Mountain views.  
According to Realtor.com, the 3,506-square-foot main house on Halfway Road is made of stone and stucco and has four bedrooms and four bathrooms. The living room and library both have a fireplace, and the library also features a bar. The main house also has an enclosed porch, a dining room, an open kitchen, a solarium and laundry.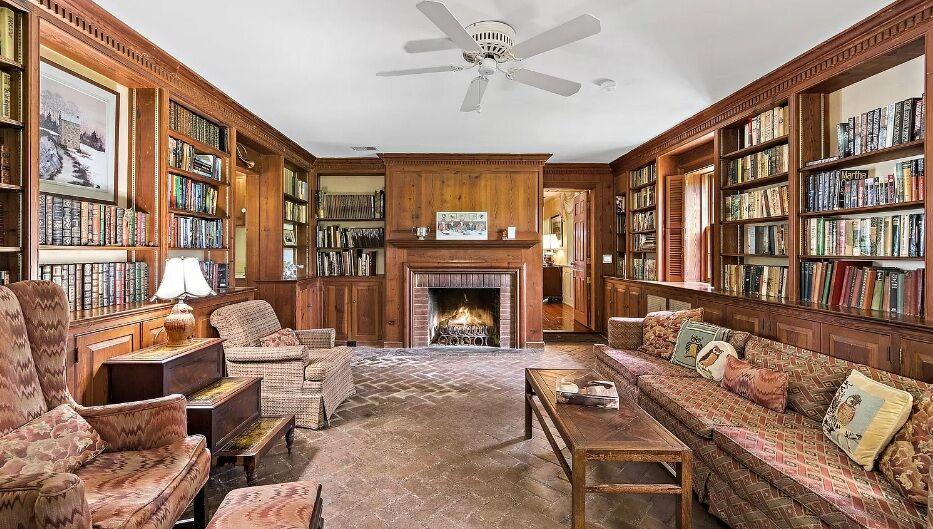 A separate stable entrance leads to the farm manager's house, with three bedrooms, three baths, an open living room and kitchen, an enclosed porch and a deck. The property also has two one-bedroom guest houses with baths and a stone cottage.  
The farm features 39 acres of fenced horse pasture, 19 acres of hay, two stables, nine stalls and feed and tack rooms. Forty-five acres of land has Poplar, Oak and Sycamore trees and is crossed by Little River and contains a three-story rock quarry. Two ponds are managed for wildlife, including kingfishers, herons and local and migrating ducks.
Previous owners put the property on the market for the first time in 60 years in 2021. It was listed for $3.975 million on June 11. Instead, it sold for $3.55 million more than a year later, on Aug. 9. 
Helen MacMahon with SHERIDAN-MACMAHON represented the seller, and Cricket Bedford represented the buyer with Thomas and Talbot Estate Properties, Inc.
The Fauquier County Circuit Court clerk's office recorded these real estate transfers Aug. 10-Aug. 16:
Cedar Run District
-Thomas E. and Gayle J. Hines, trustees, to Taylor A. and Celeste Naleppa, 2 acres, 11094 Burwell Road, Nokesvillle, $390,000. 
-RMH Builders LLC, Robert M. and R. Mitchell Heflin as members, to David M. Winter and Kayla M. Caroline Freeman, 2.2 acres, 4065 Ensors Shop Road, Midland, $650,000. 
-Johnathon M. McCombs and Katherine N. Pirlot to Hailey B. Ralston and Michael D. Bailey, 0.8 acres, Lot 1, Whitewood Forest Subdivision, $490,000.  
-NVR Inc. to David and Rebecca Kieser, 0.5 acres, Lot 88, Warrenton Chase Phase 2 Subdivision, 2720 Travers Place, Warrenton, $809,430. 
-George A. and Lilli B. Anderson to John T. and Mary K. Stanley, Lot 4-B, Rock Springs Estates Subdivision, 5046 Rock Springs Road, Warrenton, $525,000. 
-Melanie A. Cole and James B. Cole III to Shelby L. Payne, 1 acre, 2721 Courtney School Road, Midland, $445,000. 
Center District 
-Benjamin L. Greer to Adair D. and David C. Poullath, 0.4 acres, Lot 1, Brookshire Manor Subdivision, 7 Brookshire Drive, Warrenton, $650,000. 
-Dib R. Taiyuan and Rouba A. Khalil to Alex R. Cordova and Maria J. Terceros, Lot 80, Olde Gold Cup Section 2C Subdivision, 712 Lancrel Road, Warrenton, $585,000. 
-Shala M. Baugh to Brie A. Rowe, Lot 114, Oak Springs Subdivision, 707 Acorn Court, Warrenton, $395,000. 
Lee District 
-Davida and Julia Vigil to Stephanie Schumacher and Philip Johnson Jr., Lot 74, Mintbrook Subdivision, 9033 Randolph Circle, Bealeton, $490,000. 
-Joshua C. Blevins and Cheryl F. Terry to Cassidy R. Sowards, Lot 302, Waverly Station at Bealeton Condominium Subdivision, 6185 Willow Place, Bealeton, $200,000. 
-Matthew B. and Erica S. Zurlo to Maria De Lourdes Leininger and Paola Yozadhara Ramirez, Lot 9, Mintbrook Subdivision, 3000 Revere St., Bealeton, $554,900. 
Marshall District 
-Brittany M. Morgan to Domingo A. Henriquez, Lot 24, Marshall Townhouses Section D Subdivision, 8623 Harrison Court, Marshall, $250,000. 
-John E. Haramis II and Stephanie Fischer, trustees, to Jason and Sandra Albertson, Lot 10, Waterloo South Subdivision, 7895 Trafalgar Place, Warrenton, $800,000.  
-Richard L. and Wendy D. Greenwood to Deanna and Ronald W. Blevins, 3.5 acres, Lot 1, 5699 Three Chimneys Drive, Marshall, $640,000. 
-Frances B. and Gerald H. Rush to Michael and Corrine Nelson, 11.7 acres, Lot 129, Bellevue Farms, 7270 Paddock Way, Warrenton, $850,000. 
-John M. and Suann M. Lanton to Richard G. Burns Jr., 10.6 acres, 6263 John Barton Payne Road, Marshall, $835,000. 
Scott District
-Brenda E. and Glenn E. Barber to James and Karen E. McKean, 1.2 acres, Lot 2, Jamisons Farm Subdivision, 7054 Hi Rock Ridge Road, Warrenton, $849,900. 
-Halfway Farm LLC, Margaret W. Gallagher as manager, to Bella Sole Farm LLC, 107 acres, 3128 Halfway Road, The Plains, $3,550,000. 
-Julia P. Sarr and others to Susan Higgins and Richard D. Higgins Jr., Lot 27, Vint Hill Subdivision, 3591 Sutherland Court, Warrenton, $535,000.  
-Walter J. and Monica Buzzetta to Rufus Hayes Jr. and Keonna Hayes, Lot 54, Brookside Subdivision, 4571 Gates Road, Warrenton, $825,000. 
-Lisa A. Richard to MWJ Group LLC, 0.4 acres, 4228 Bragg Street, The Plains, $225,000. 
-NVR Inc. to Demetrius R. and Evelyn Allen, 0.6 acres, Lot 47, Broad Run Estates Subdivision, 7904 Spotted Saddle Court, Warrenton, $864,770. 
-Jorge A. Dominguez to Sara and Paulino Salinas, 1.2 acres, Lot 49-R, Addition to Marstella Estates Subdivision, 7333 Auburn Mill Road, Warrenton, $595,000. 
-Denis D. Gillis to Tricia L. Neale, Lot 40, Brookside Subdivision, 1194 Brittle Ridge Road, Warrenton, $660,000.
-Erin and Geoffrey St. Germain to Thomas J. Jr. and Danyelle E. St. Germain, 1.2 acres, Lot 10, Meadowvale Subdivision, 5522 Meadowvale Drive, $485,000.